Leica/Vistacam
Video Inspection System

This auction is for a very versatile video inspection & documentation system. It has the ability to display, record and print magnified high resolution images. It consists of Leica optics & Vistacam electronics.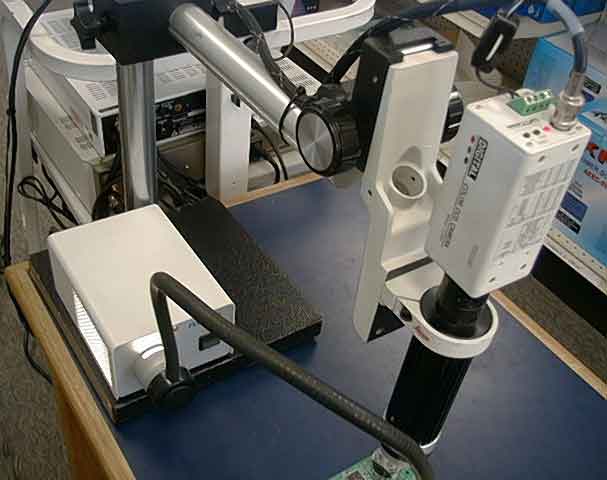 The Two Main Features Are:
Real Time Magnified images displayed on a high resolution 15 inch color monitor with a 1x7 Zoom Ratio. This magnification range is comparable to a Leica (B&L) StereoZoom 7 Microscope without the eye strain and neck fatigue.

Still image capturing on the Vistacam digital mini floppy recorder or printed on the Vistacam Video Printer. Many capture functions are controlled through the foot pedal controls allowing hands free operation.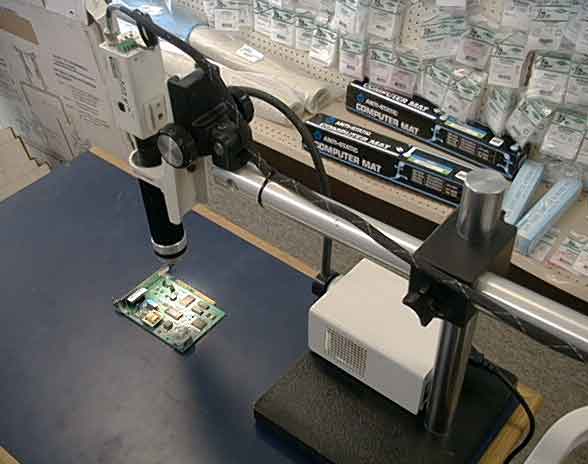 The Vistacam items appear to be name brand products with the Vistacam Logo Attached.
The system is in very good condition. The displayed images are very sharp. The only item of note was that occasionally paper feed problem in the printer.
The system includes
Leica (B&L) MonoZoom 7 Lens Esemble
High resolution Color Video Camera (rated at approx. 540 lines of resolution)
Optic Fiber Light Source
Leica (B&L) Boom Stand
Vistacam 15 inch Color Monitor
Vistacam Digital Mini-Floppy Recorder (w/ Foot Pedal Control)
Vistacam Photo Printer (w/ Foot Pedal Control)
Vistacam Cart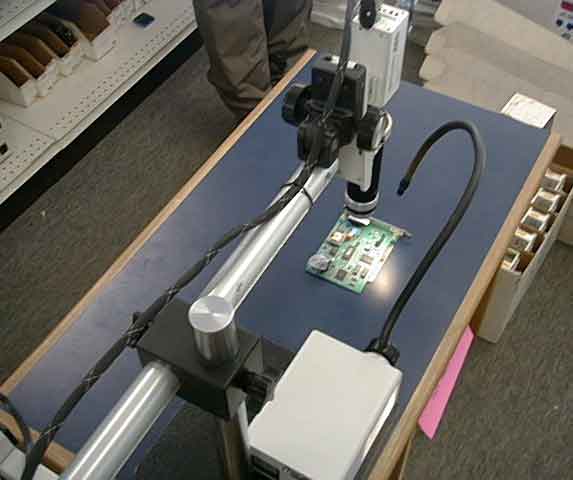 Potential Applications :
Rework and rework documentation

Inspection and Quality Control Documentation

Prototype Documentation

The Perfect Christmas gift for the man who has Everything.
The system is excellent for just about any application where real time medium magnification is needed and documentation is required.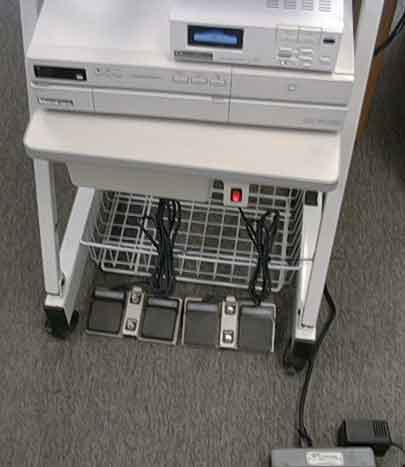 The LEICA MONOZOOMŪ 7 Optical System improves productivity and accuracy in industrial fabrication and inspections that utilize closed circuit television (CCTV). The LEICA MONOZOOMŪ 7 is the only system that connects directly to any CCTV camera and is a valuable quality control and assurance instrument; it is also ideal for industrial training or education programs - or just about any group viewing situation. The LEICA MONOZOOMŪ 7 features high resolution, large fields of view, and exceptional light transmission.
Lightweight, portable and easy to handle. The slim, modular designs incorporates features for almost limitless applications
LEICA MONOZOOMŪ 7 stays parfocal through the entire 1:7 parfocal zoom range
Accessory objectives, amplifiers and illuminators expand and enhance the system's capabilities
Four optical heads, each with 45° inclination for viewing comfort over long working periods also are available. They include: monocular and binocular for direct viewing and trinocular and photomonocular for simultaneous ocular and CCTV viewing
The LEICA MONOZOOMŪ 7 Optical System has the widest zoom range available on a uniaxial optical system, as well as the widest magnification range and long working distances
Because the optical system is designed to match high resolution cameras, monitors will display more detail and crisper images
Warranty
As our many customers will attest, we will do our very best to resolve any customer problems. But our official policy is:
All items sold are guaranteed against D.O.A. only.
All claims must be made within 3 days of receipt.
All warranties are void if the calibration / warranty seals are broken.
Ascent Concepts and Technologies is a Research & Development Lab. As a service to the companies and institutions we work with, we broker their excess equipment & acting as application specialists on their new equipment needs. We are now offering quality used equipment to the public with the same level of professionalism and service. Please feel free to email at thomasknox@ascentconcepts.com or call Thomas @ 1-303-554-0307 with any Technical questions. Please feel free to email at waltwhite@ascentconcepts.com or call Walt @ 1-720-276-8288 with any Shipping or Logistical questions. We make every effort to evaluate and guarantee our equipment. Although we do not provide NIST traceable calibration, we do have in house calibration equipment and will make every effort to test and verify performance on equipment we sell. However we do not warranty any items shipped outside the United States.
Shipping Policy
Buyer will pay $75.00 packing +actual shipping. We will make every effort to ship within 24 hours of receipt of payment. We ship with FedEx & UPS only. We will be glad to ship with other carriers using the purchasers shipping account. Please contact us to make any special shipping arrangements. For shipping rate research, our shipping address is Boulder, CO USA ---- Zip Code is 80305.
Foreign buyers: Unless special provisions have been made, you are responsible for making your own shipping arrangements and all costs related to customs, duties & special packaging requirements. Please do not ask us to quote you international shipping rates. Use the address information above to research you own shipping rates. You can email waltwhite@ascentconcepts.com to get the packaging fee, package weight and size for your research. Items sold outside the USA are sold as is.
Payment Policy
We accept Credit Card payment through Paypal. We accept Cashiers Check or Money Orders.