Videotek RS-103A
Video Switcher
w/3 Audio Inputs per Channel and Breakaway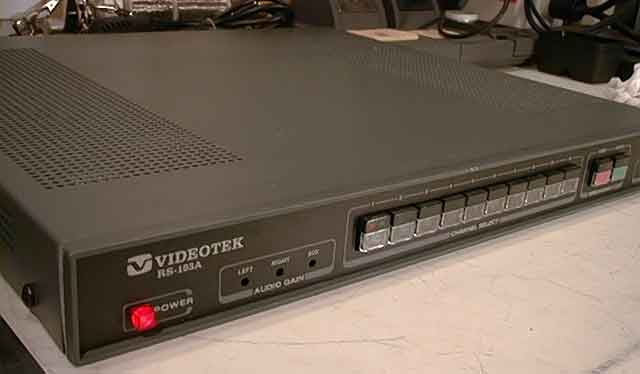 The unit is in excellent condition the only item of note is that the rack mount tabs have been removed.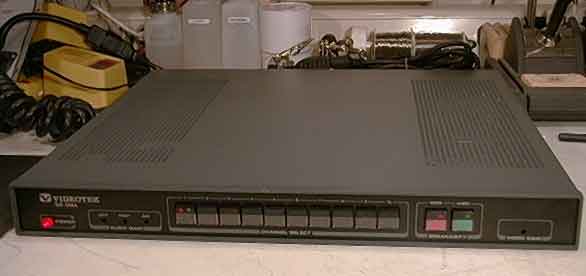 FEATURES
Wide bandwidth for high resolution applications (±1.0 dB at 40 MHz).
DC restored output amplifier.
High speed clamping provides excellent hum rejection.
Low return loss >55 dB at 5 MHz.
+24 dBm audio headroom.
3 audio channels per input, balanced or unbalanced (RS-103A).
Transformer coupled audio outputs, balanced or unbalanced (RS-103A).
Two channel audio breakaway. Auxiliary channel can be programmed to follow video or audio breakaway (RS-103A).
Microprocessor control with battery backup.
Serial data bus for communication within the system and remote control.
Data bus interconnection via RJ11C telephone connectors.
System expandable horizontally to 40 x 1 and vertically to 30 x 10.
1 RU (1.75") high, rackmountable.
Standards Available: NTSC and PAL
The RS-103A Series was designed to be the most versatile 10 x 1 routing switchers available. Excellent signal quality, remote control options and RS-422 control capability has been engineered into these switchers. Multiple switchers can be linked together via the Videotek Data Bus to form various configurations such as matrix, component and expanded input systems. Video only or three channel audio-follow-video applications may be built with the RS-103 series. As system requirements change, these switchers may be field-upgraded to new configurations.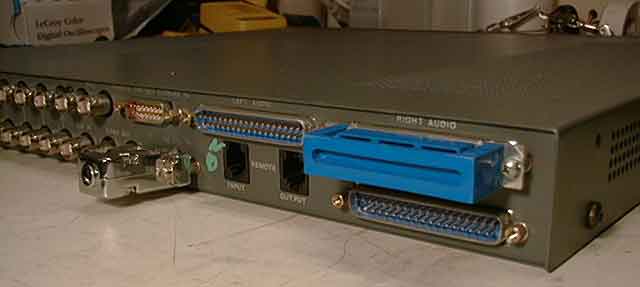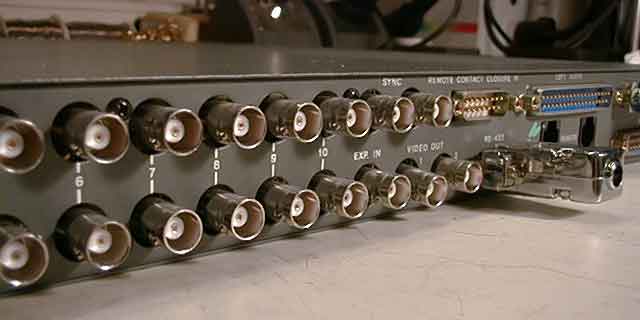 Shipping Policy
Buyer will pay $35.00 packing and shipping in the continental United States. We will make every effort to ship within 24 hours of receipt of payment. We ship with FedEx only. We will be glad to ship with other carriers using the purchasers shipping account. Please contact us to make any special shipping arrangements. For shipping rate research, our shipping address is Boulder, CO USA ---- Zip Code is 80305.
Foreign buyers: Unless special provisions have been made, you are responsible for making your own shipping arrangements and all costs related to customs, duties & special packaging requirements. Please do not ask us to quote you international shipping rates. Use the address information above to research you own shipping rates. You can email waltwhite@ascentconcepts.com to get the packaging fee, package weight and size for your research. Items sold outside the USA are sold as is.