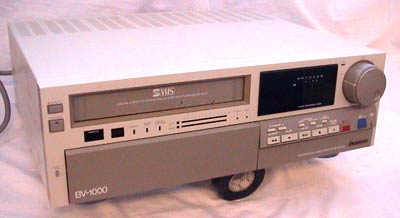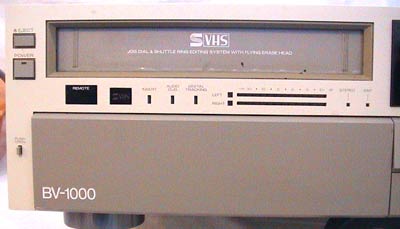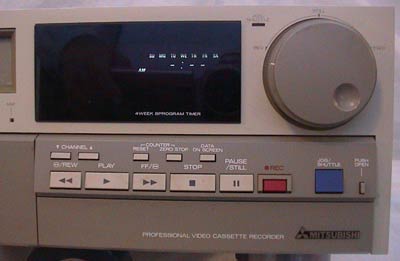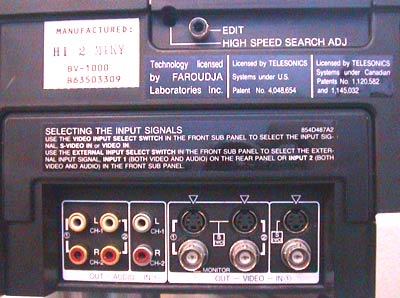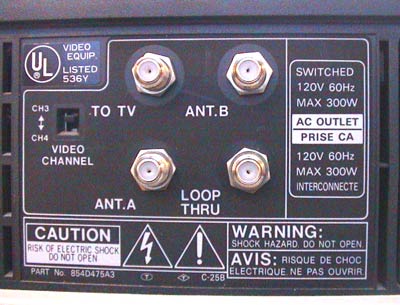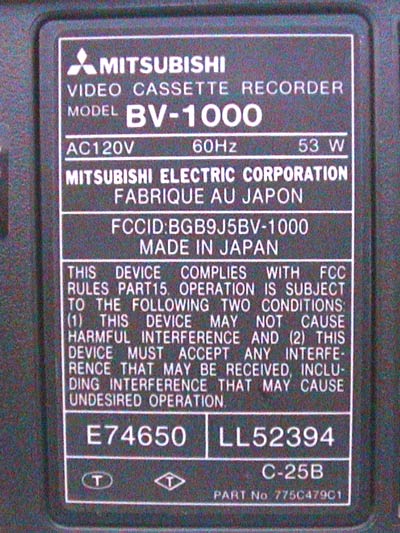 Mitsubishi BV-1000
Video Cassette Recorder
SVHS Editing Pro VCR w/ Jog Shuttle
Characteristics:
14M 8BIT Digital Picture
High Resolution Over 400 Lines
Hi-Fi Fantas System
100 Picture Digital Multi Play
SUPER VHS FE-PRO Dual-Azimouth Video heads
Jog and Shuttle search for accurate editing
Digital Hi-Fi Sound
Hi-Fi Stereo Similated Sound with Hi-Fi Recording Level and Balance Control
Multi-color Multi-Function Florescent Display
3 different Display Modes
MTS Broadcast Stereo TV-VHF/UHF-BS-1F
Frame-to-Frame function
Flying Erase System
Full Area Video Enhancer button
Strobe Function
Picture-In-Picture
Multi Still/Strobe
Auto Head Cleaner
Headphone Monitor Terminal with Level Volume Control
Mic Input
Digital and Manual Tracking
Auto-Title on/off
Picture (Softness/Sharpness) Control
Picture and Sound Mixing functions,
Audio Insert and DUB buttons
SAP REC and INDEX functions
Digital Sound Effects
100 Picture Digital Multi Play
Time/Date/Year
Auto Tape Selection
Programable Recording up to 1 month
Return Zero
Playback and Recording 2-speed (SP/EP)
Edit function
Inputs: S-Video, Video line (24K gold / high signal transfer), Microphone, VHF/UHF
Outputs: S-Video, 2 Video, 2 Audio (Constant and Variable), Headphones,VHF/UHF
Level Indicator (On\Off\Hi-Fi\Tracking)
ALC (On\Off)
Editing Timer
Editing counter
Power Outlet 100Volt 300W max switched etc
Advanced Professional Editing Features
14M 8Bit Digital Picture adjusted by microprocessor and Digital Tracling
100 Picture Digital Index Play
Advanced Picture-In-Picture (PIP) Editing features
Digital Index and Multi Screen (9,16,24…100 shots)
Twin picture with Swap function
Digital Clear Picture Function
Picture Enhancement
Strobe speed control
GO-TO quick find function and Digital Memory
Index Mark and Erase buttons
Flying Erase Heads allows glitch-free smooth transitions between two edited recorders.
Synchronized editing: Recording & Playback of 2 VCR's can be synchronized using
the Control S or Control L jacks on rear panel.
Digital Optical and Coaxial Inputs and Outputs
S-Video and Muse Inputs and Outputs
Video and Audio Insert recording allows insertion of a new picture or soundtrack onto any prerecorded tape.
Edit monitor display shows both playback and recording VCR pictures
Picture / Sound Performance
S-VHS picture provides over 400 lines of Horizontal Resolution – Digital Picture that approaches DVD quality.
Digital/HiFi/Stereo Sound with Simulated 3D
Sound Level Indicator with peak hold
Audio Dub
Audio Monitor (L, R, L+R)
Audio Frequency Response: 20 to 20,000 Hz
Dynamic Range: More than 90 dB
Wow and flutter: Less than 0.005%
Inputs & Outputs:
Line In: 2 S-video input connectors + 2 RCA video & audio input jacks
Line Out: 2 S-video output + 2RCA video & audio output jacks
Monitor Out: S-video Muse + RCA video & audio input jacks
Record level control and LED level display for audio recording level adjustment - obtain optimum sound level
BOTH Digital Auto Tracking --and-- Manual Tracking controls
Microphone Input jack
Headphone Output jack with volume control
Plays and Records both regular VHS tapes and S-VHS tapes
Other Features
Digital Tape Counter
Maximum Record Time 9 hours (T-180)
Auto Menu
Data Screen "on-screen" menu
Equipment Notes:
The unit powers up just fine. Beyond that, it is untested. The unit is sold as is.
Payment, Shipping & Bidding:
Forms of payment accepted are Paypal, cashiers checks and money orders only. No international buyers unless Paypal verified. Please feel free to contact us if you need other arrangements.
Buyer will pay $10.00 packing and shipping in the continental United States.
We will make every effort to ship within 24 hours of receipt of payment. We ship with FedEx & UPS only. We will be glad to ship with other carriers using the purchasers shipping account. Please contact us to make any special shipping arrangements. For shipping rate research, our shipping address is Boulder, CO USA ---- Zip Code is 80305.
Many of our auctions have a set packaging and shipping fee. This set fee makes the transaction easier and allows the purchaser to send payment at once without having to wait for a shipping total. This is our best guess on an unpackaged item. Please consider the total with shipping when you are bidding.

Foreign buyers: Unless special provisions have been made, you are responsible for making your own shipping arrangements and all costs related to customs, duties & special packaging requirements. Please do not ask us to quote you international shipping rates. Use the address information above to research you own shipping rates. You can email sales@ascentconcepts (no spam) .com to get the packaging fee, package weight and size for your research. Items sold outside the USA are sold as is.
Bidders - with no feedback or less then 80% positive feedback must contact us through the eBay email system before placing a bid. We will reply through the same system, documenting that you have been approved to bid. If you do not follow these procedures, your bid will be cancelled. All other bidders, bid with confidence.
About Us:
Ascent Concepts and Technologies is a Research & Development Lab. As a service to the companies and institutions we work with, we broker their excess equipment & act as application specialists on their new equipment needs. We are now offering quality used equipment to the public with the same level of professionalism and service.
Please feel free to email at thomasknox@ascentconcepts (no spam) .com or call Thomas @ 1-303-554-0307 with any Technical questions. Please feel free to email at waltwhite@ascentconcepts (no spam) .com or call Walt @ 1-720-276-8288 with any Shipping or Logistical questions. We make every effort to evaluate and guarantee our equipment. Although we do not provide NIST traceable calibration, we do have extensive in house calibration equipment and make every effort to test and verify performance on equipment we sell. However we do not warranty any items shipped outside the U
Warranty
Because we don't have time to fully test or calibrate many of the less expensive items. We sell them as is. We try to clearly state any problems we find in our limited interaction with the product. As our many customers will attest, we will do our very best to resolve any customer problems. But our official policy is: