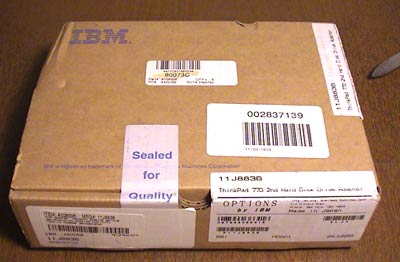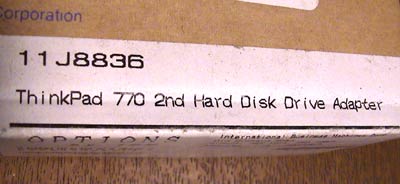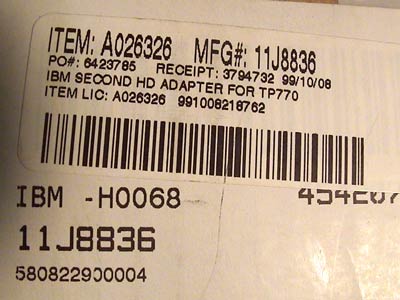 IBM ThinkPad 770
2nd Hard Drive Adapter NEW
Characteristics:
The IBM ThinkPad 770 2nd HDD Adapter is a simple device which allows you maximum storage flexibility with your new ThinkPad 770 system.

Using the ThinkPad 770 HDD adapter, you can add a second drive to the Ultra Bay II of your new ThinkPad, enabling up to 14.1GB (double disk storage). Now you can take it with you applications, data, multimedia, fax, and games more than your desktop.

With a second HDD in your Ultra Bay II, you have also given yourself a fast way to backup key applications and critical data. Efficient data portability between ThinkPad systems is also at hand.

The IBM ThinkPad 770 2nd HDD adapter will allow either 760 or 770 HDDs to be used as a second HDD in the 770 Ultra Bay II, protecting your investment in IBM disk drives.
Equipment Notes:
This Adapter is new in the box unopened. Tested - Working. The unit comes with a 3-day DOA warranty.
Shipping and Payment:
We ship via UPS Ground unless buyer requests an upgrade. Shipping on this item is $11 anywhere in the 48 inland states. You may use your own shipping account if available.
Payment accepted are Paypal, cashiers checks and money orders only. No international buyers please.