Tektronix AM503S
Dual Current Probe System
With A6302 Current Probes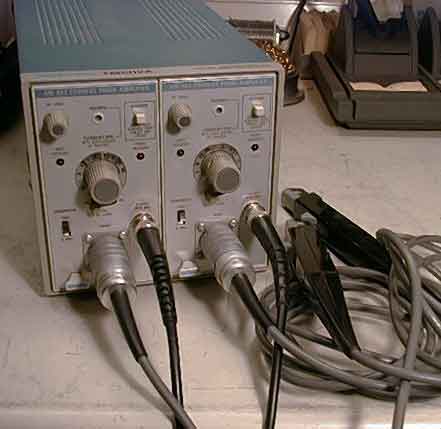 Two AM503 Systems Complete with A6302 Current Probes
The AM503 current probe amplifier allows display of current on any oscilloscope having 10 mV/div sensitivity, 50 ohm or 1 megohm input, and at least 100 MHz bandwidth.
1 TM503A Power Supply
2 AM503 Current Probe Amplifiers
2 A6302 Current Probes
2 Pomona BNC Interconnects
The AM503 has been fully tested in both AC & DC Signals. The unit is in very good condition. The pictures are the actual unit. The only items of note is a small chip on one of the knobs and one the small light bulbs is out in the display. If the bulb is an item of concern, we will have our lab replace it before it is shipped.
Features and Specifications
Allows for current display on any oscilloscope
Maximum input current: 20A for 6302; 100A for 6303
Bandwidth: >50 MHz 6302; >15 MHz 6303
Rise time: <7 ns 6302; <23 ns 6303
Deflection factor: 1 mA/div to 5 A/div for 6302; 20 mA/div to 50 A/div for 6303