Tektronix DA 4084
Distortion Analyzer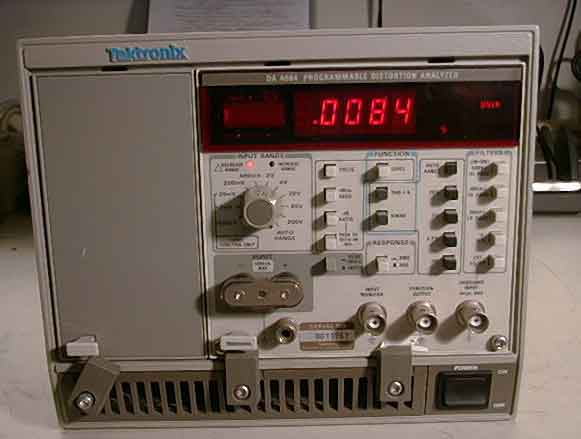 DA 4084 Programmable Distortion Analyzer with an operations manual.
Fully Automatic: No Level Setting, Tuning, or Nulling
Level, Total Harmonic Distortion, and dB Ratio Measurements
Total System Harmonic Distortion Plus Noise (THD+N) < 0.0025% (with companion SG505/SG5010)
<= 3.0 uV Residual Noise
Digital Readout Plus Analog-Like "Bar Graph" for Peaking and Nulling
Special Military Version of the AA5001 with SINAD measurement and dedicated mainframe
This instrument is in excellent physical and electrical condition.
The DA4084 provides fully automated measurement of level and total harmonic distortion plus noise (THD+N). Automatic measurement means that once the mode is selected and the test signal is applied, the operator simply reads the accurate result on a 3-digit display. Functions such as level setting, tuning, and nulling are fully automatic.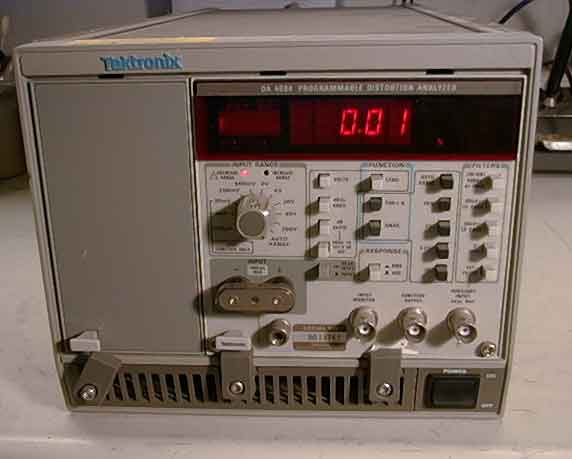 The DA4084 provides dB-ratio measurements referenced either to 774.6 mV (1mW in 600 ohms) or to a user applied signal. The 0 dB reference memory stores selected level, and all subsequent measurements are referenced to it. The user can choose either rue-rms or average response. While true-rms is generally more accurate, the averaging feature is convenient for comparison of new data with data taken on older instruments where averaging was the only mode available.
The fundamental frequency range is 10 Hz to 100 kHz with harmonic measurements to 300 kHz. Any one of four built in frequency-weighting filters can be switched into the signal paths for input signal preconditioning. External filters can be simply connected for for special applications such as stereo pilot tone rejection, rejection of continuous tone squelch signals in mobile radio systems, or for selection of individual harmonics instead of total harmonic distortion measurements.
An input monitor connector and Function Output connector permit oscilloscope display of the input signal or the filtered signal input used in THD+N measurement.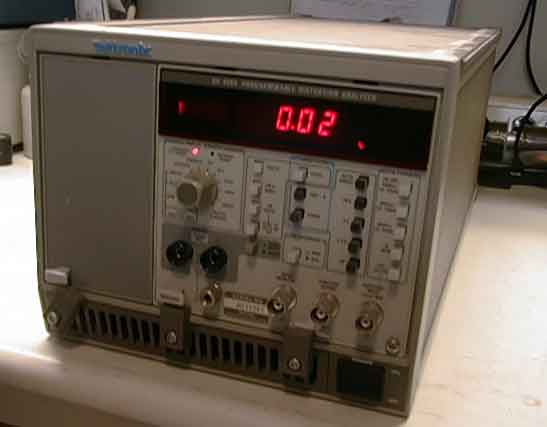 Fully automatic - no level setting, tuning, or nulling needed.
Fully automatic level (volts or dBm) and dB ratio measurements.
3 1/2 digit, 2000 count LED and analog bar graph displays.
Frequency range: 10Hz to 100kHz. Input ranges: 200uV to 200V (10 steps).
Distortion ranges: Auto (100%, 20%, 2%, 0.2%, and dB autoranging).
GPIB.
Includes power module.
Four built-in frequency weighting filters that can be switched into signal path for signal preconditioning - any mode.
Warranty
As our many customers will attest, we will do our very best to resolve any customer problems. But our official policy is: All items sold are guaranteed against D.O.A. only. All claims must be made within 3 days of receipt. All warranties are void if the calibration / warranty seals are broken.
Ascent Concepts and Technologies is a Research & Development Lab. As a service to the companies and institutions we work with, we broker their excess equipment & acting as application specialists on their new equipment needs. We are now offering quality used equipment to the public with the same level of professionalism and service. Please feel free to email at thomasknox@ascentconcepts.com or call Thomas @ 1-303-554-0307 with any Technical questions. Please feel free to email at waltwhite@ascentconcepts.com or call Walt @ 1-720-276-8288 with any Shipping or Logistical questions. We make every effort to evaluate and guarantee our equipment. Although we do not provide NIST traceable calibration, we do have in house calibration equipment and will make every effort to test and verify performance on equipment we sell. However we do not warranty any items shipped outside the United States. All equipment we sell comes with a three day right of return unless stated otherwise.
Shipping Policy
Buyer will pay $40.00 packing & shipping in Continental USA. We will make every effort to ship within 24 hours of receipt of payment. We ship with FedEx & UPS only. We will be glad to ship with other carriers using the purchasers shipping account. Please contact us to make any special shipping arrangements. For shipping rate research, our shipping address is Boulder, CO USA ---- Zip Code is 80305.
Foreign buyers: Unless special provisions have been made, you are responsible for making your own shipping arrangements and all costs related to customs, duties & special packaging requirements. Please do not ask us to quote you international shipping rates. Use the address information above to research you own shipping rates. You can email waltwhite@ascentconcepts.com to get the packaging fee, package weight and size for your research. Items sold outside the USA are sold as is.
Payment Policy
We accept Credit Card payment through Paypal. We accept Cashiers Check or Money Orders.