Tektronix TD100
Data Manager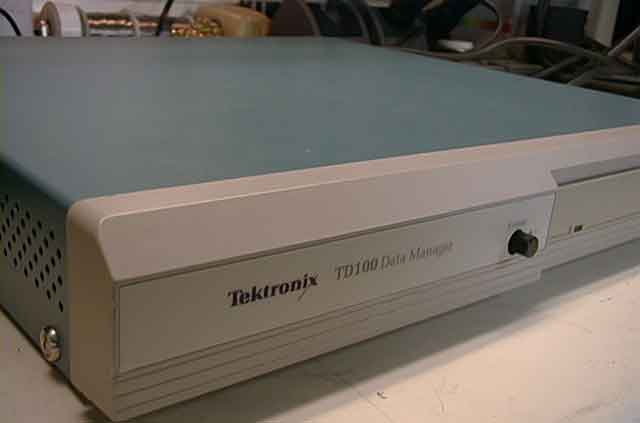 The Tektronix TD100 Tekmate is designed to offer enhanced memory and features to the TDS 500, 600 and 800 series digital oscilloscopes. The TD100 has a mounting plate that is designed to interlock with TDS series scopes.
Two DB9 serial com ports marked com1 and com2.

One DB25 parallel style printer port. I

One standard DB15 VGA monitor connector.

One PS2 Keyboard Port.

One IEEE-488 Connector.

Two additional ISA expansion slots available and unused.
The unit has an internal processor board, hard drive and floppy.

The data manager is in good condition with a few minor scratches. I don't currently have a TDS Scope in the lab so I could not fully test the system. It did power up. It displayed no errors and searched (unsuccessfully of course) for a TDS series scope.
I'm sorry but I don't the hard drive size or how much RAM this product has.
Like many other Tektronix Products, this product was manufactured for them by RadiSys Corporation and their model designation was 131816.

TEKTRONIX TD100 TEKMATE DATA MANAGER FOR TDS 500/ 600 & 800