Tektronics AFG310
Arbitrary Function Generator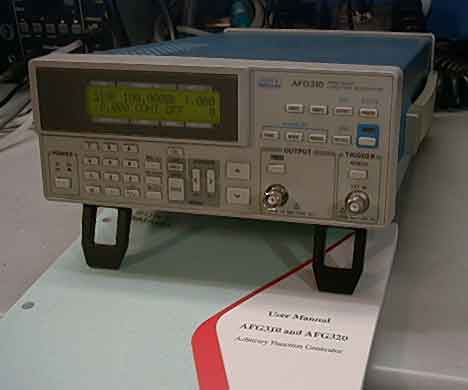 The AFG 310 is Tektronics answer to the Agilent 33120A and SRS's 345 Function Generators. It's easy to use and includes an extensive manual.
The unit is in Like New physical condition and performs flawlessly. This is demonstrated in its extremely low distortion which can be seen in the displays of our 8903B Distortion Analyzer and 35665 Dynamic Signal Analyzer shown below.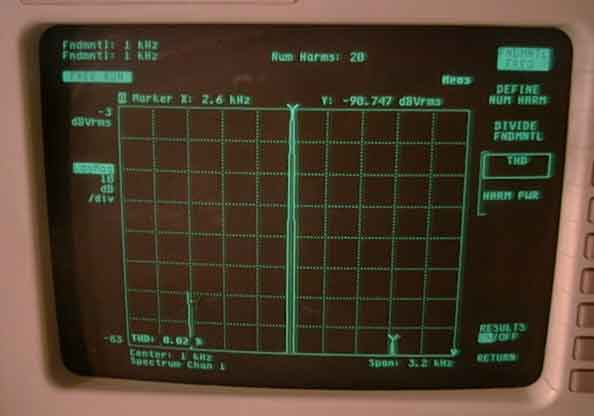 Features & Benefits
Five Functions in One Instrument

Function Generator
Arbitrary Waveform Generator
Burst Generator
Sweep Generator
Modulation Source

AFG320 Offers Two Independent Channels
Load Waveforms Directly from Selected Tektronix Digital Oscilloscopes via the GPIB Interface
Windows-based WaveWriter™ Waveform Editing Software Package Included for Convenient Creation and Editing of Arbitrary Waveforms
All Functions Including Waveform Creation and Editing Accessible via the Front Panel
Optional Rackmount Kit for System Applications
Applications
Design and Test
Automotive
Education
Industrial
Biomedical
Sensor Simulation
Manufacturing Test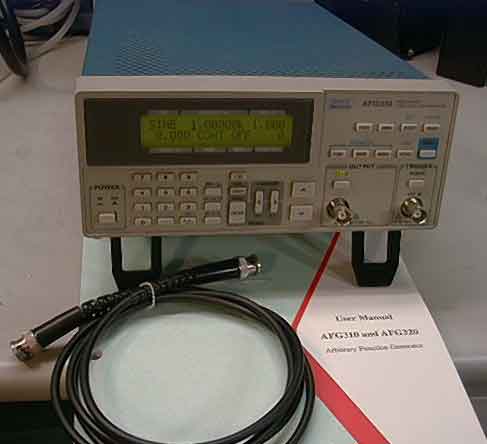 Function Generator
The AFG300 Series is an excellent 16 MHz function generator with built-in arbitrary waveform, burst, sweep, and modulation capabilities. The instruments support standard waveforms including sine, square, triangle, ramp, pulse, DC and noise. Its sweep function includes Linear and Logarithmic (up or down) while operating in the Continuous, Triggered, and Burst modes.
Arbitrary Waveform Generation
With a sample rate of 16 MS/s, 12-Bit vertical resolution and a non-volatile memory that holds four 16,384-point waveforms, the AFG300 Series are powerful tools for simulating complex waveforms. Waveforms can be downloaded directly from selected Tektronix oscilloscopes and arbitrary waveform generators via GPIB, created with the standard WaveWriter waveform editing software package, or entered via the front panel.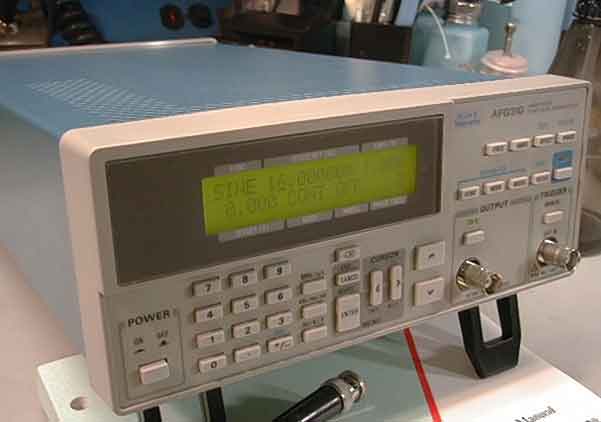 Output Channels - AFG310: 1.

Standard Waveforms - Sine, Square, Triangle, Ramp, Pulse, DC and Noise.

User Waveforms - (Preprogrammed samples)

USR1: Sin (X)/X
USR2: Double Exponential Pulse
USR3: Damped Sine Wave
USR4: NRZ Random Signal

Arbitrary Waveforms -

Waveform Length: 10 to 16384 points.
Vertical Resolution: 12-Bit.
Sample Rate: 16 MS/s.
Nonvolatile Memory: Four 16 k waveforms.

Output Frequency -

Sine, Square: 0.01 Hz to 16 MHz.
Triangle, Ramp, Pulse: 0.01 Hz to 100 kHz.
Noise (Gaussian): Maximum 8 MHz bandwidth.
Repetition Rate: 0.01 Hz to 1.6 MHz.
Resolution: 7 digits.
Accuracy: 50 ppm.

Output Characteristics -

Amplitude (into 50 Ω): 50 mVp-p to 10 Vp-p.
Accuracy: ±(1% of setting + 5 mV) at 1 kHz, no offset.
Flatness (at 1 V amplitude relative to 1 kHz):
<100 kHz: ±1%.
100 kHz to 1 MHz: ±1.5%.
1 MHz to 16 MHz: ±3%.
Offset (into 50 Ω):
505 mVp-p to 10 Vp-p amplitude: peak amplitude + offset is limited to +5 V or -5 V.
50 mVp-p to 500 mVp-p amplitude: -0.75 V to +0.75 V.
Accuracy: ±(1% of setting +5 mV).
Resolution: 5 mV.
Output Impedance: 50 Ω.
Isolation: 42 V peak maximum relative to earth ground.

Phase:

Range: ±360°.
Resolution: 1°.

Sine Wave Spectral Purity -

Harmonic Distortion:

DC to 20 kHz: -65 dBc.
20 kHz to 100 kHz: -60 dBc.
100 kHz to 1 MHz: -45 dBc.
1 MHz to 16 MHz: -35 dBc.

Total Harmonic Distortion:

20 kHz: 0.05% at 1 V amplitude.

Signal Characteristics -

Square:

Rise/Fall Time: ≤20 ns.
Overshoot: <<2%.

Pulse:

Rise/Fall Time: <<100 ns.
Duty Cycle: 1% to 99% of period.
Triangle, Ramp, Pulse, Arbitrary:
Jitter: 2 ns at 100 kHz.

Modulation -

AM:

Source: External only.
Carrier: Up to 16 MHz.
Modulation: Any internal waveform plus Arb.
Frequency: DC to 200 kHz.

Depth:

1 V: 100%.
0 V: 50%.
-1 V: 0%.
2 Vp-p for 100% modulation.

FM:

Source: Internal only.
Modulation: Sine, Square, Triangle, Arb.
Frequency: 0.01 Hz to 10 kHz.
Deviation: 0.01 Hz to 8 MHz.
FSK (frequency shift keying):
Source: Internal only.
Mode: Trigger, Burst.
Frequency range: 0.01 Hz to 16 MHz.
Key rate: 0.01 Hz to 50 kHz.
Number of keys: 2.

Frequency Sweep -

Type: Linear or logarithmic.
Direction: Up or down.
Start/Stop Frequency: 0.01 Hz to 16 MHz.
Time: 1 ms to 100 s.
Mode: Continuous, Trigger, Burst.

Operating Mode -

Continuous: The selected waveform is output continuously.
Triggered: One period of the selected waveform is output each time a trigger occurs.
Trigger source: Manual, external.
Burst: The selected waveform is output with a specified number of cycles each time a trigger occurs.
Carrier Frequency: Up to 1 MHz.
Count: 1 to 60,000 cycles/burst (100 s maximum except sine wave or square wave) or infinite.
Start phase: -360 to +360°.
Trigger source: Manual, external.

Inputs/Outputs -

Front panel:
Main output: Ch 1, Ch 2 (AFG320 only).
External Trigger (Burst) input:
TTL input.
Pulse-width: 1 μs minimum.
10 kΩ input impedance.
Rear panel:
Sync output: TTL level.
External AM modulation:
2 Vp-p = 100% modulation.
10 kΩ input impedance.
GPIB Interface (IEEE-488.2).

Memory -

Type: Non-volatile.
Setup Storage: 20.
Arbitrary Waveform Storage: 4.

Temperature Range -

Operating: 0 °C to +50 °C.
Nonoperating: -20 °C to +60 °C.

Humidity -

Operating:

At or below +40 °C: 0 to 95%.
+40 °C to +50 °C: 0 to 75%.

Random Vibration -

Operating: 0.31 GRMS from 5 to 500 Hz, 10 minutes.
Nonoperating: 2.46 GRMS from 5 to 500 Hz, 10 minutes.

Power

Line Voltage - 90 to 132 V AC, 180 to 250 V AC.
Line Frequency -
90 to 250 V: 48 to 63 Hz.
90 to 127 V: 48 to 440 Hz.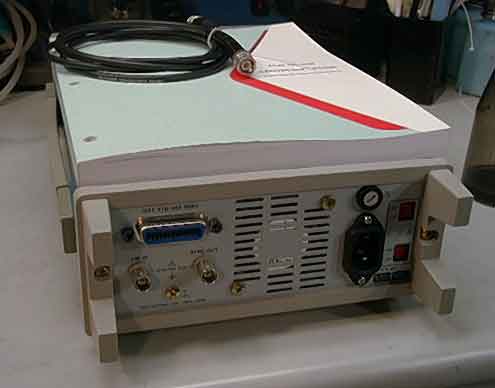 Physical Characteristics
| Dimensions | mm | in. |
| --- | --- | --- |
| Height | 99 | 3.9 |
| Width | 214 | 8.4 |
| Depth | 411 | 16.2 |
| Weight | kg | lbs. |
| Net: AFG310 | 5.4 | 11.9 |
Shipping Policy
Buyer will pay $30.00 packing and shipping in the continental United States. We will make every effort to ship within 24 hours of receipt of payment. We ship with FedEx & UPS only. We will be glad to ship with other carriers using the purchasers shipping account. Please contact us to make any special shipping arrangements. For shipping rate research, our shipping address is Boulder, CO USA ---- Zip Code is 80305.
Foreign buyers: Unless special provisions have been made, you are responsible for making your own shipping arrangements and all costs related to customs, duties & special packaging requirements. Please do not ask us to quote you international shipping rates. Use the address information above to research you own shipping rates. You can email waltwhite@ascentconcepts.com to get the packaging fee, package weight and size for your research. Items sold outside the USA are sold as is.