Rhode and Schwarz
Rubidium Frequency Standard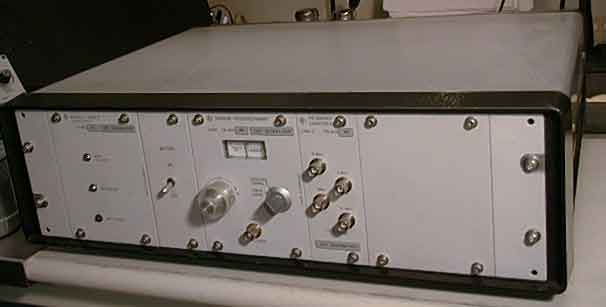 This is a extremely high quality Rubidium Oscillator was the standard in our lab for several years. It displayed excellent characteristics in both short term and long term stability. It seems very comparable to our new Datum Cesium Standard. It is excellent condition.
This Rhode Schwarz Rubidium Standard consists of :
XSRM Rubidium Frequency Standard 238.4011.02

XSRM Frequency Converter 238.0616.02

XSRM Power Supply 237.8013.02
Display of Oscillator Control Voltage
The optimal reading is between 10 and 90. It reads 50.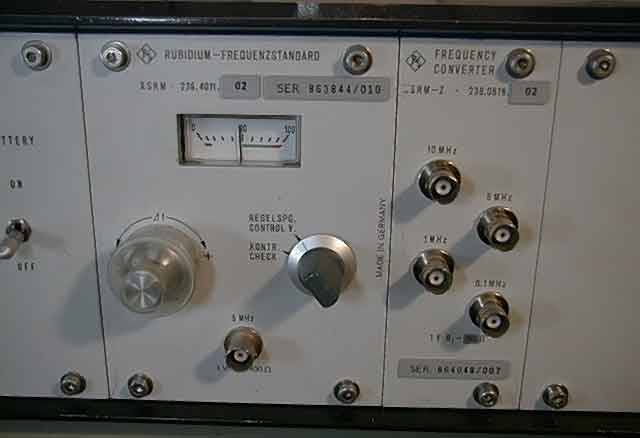 Display of Rubidium Performance Check
It may be hard to see in the photo but it is showing the Optimal Reading which is the center of the green scale below the numbered scale.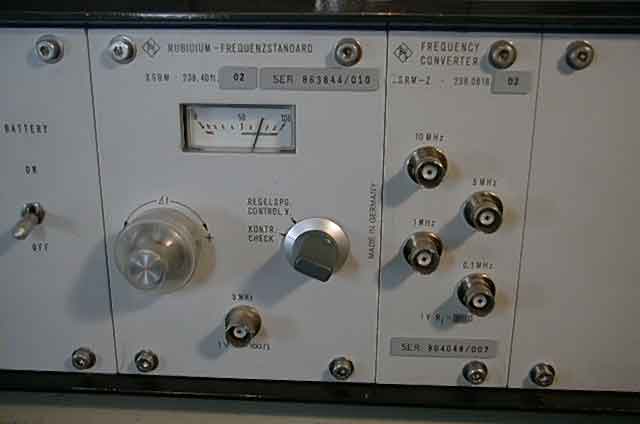 The is a display of the output. The combined uncertainty of our Agilent 53132A counter, 58503B GPS receiver and the Rhode Schwarz Rubidium Oscillator appears to be around 3x10(-12) short term stability.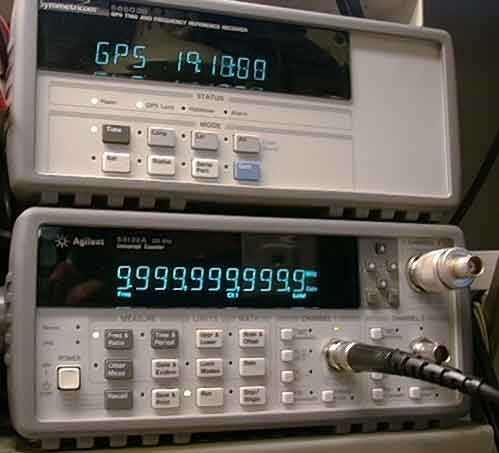 This system is mounted in a nice stand alone case.
The modules are in a frame which can be pulled from the case and rack mounted.
Rubidium Oscillator Module:
The Front Panel has 5 MHz output. The oscillator has a meter to display performance. It displays control voltage and performance check. It also has a frequency fine tune adjustment. The meter readings all fall dead center of the recommended readings. This can be seen in the photos.

The Rear Panel has 5 MHz output that is used to drive the frequency converter module. It also has a 0-10 Volt frequency controlled output and an alarm output.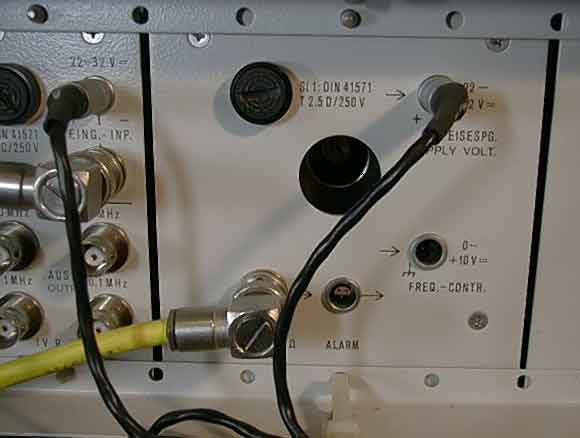 Frequency Converter Module:
The Frequency Converter Module has both front and rear outputs of 10mhz, 5 mhz, 1 mhz and 100 khz all rated at 1 Volt.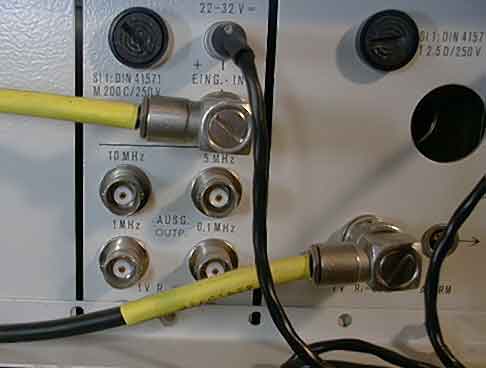 Power Supply Module:
The Power Supply module has front panel indicator lights for AC supply, internal battery and external battery. The rear panel has 4 power outputs, each is 22 to 30 Volts. 2 are used to power the rebidium oscillator and Frequency Converter. It also has an input for an external battery.

The internal batteries have been removed. Two commonly available 12 Volt batteries could be installed. We will install new batteries, either gel cell or Ni Mh, for the cost of the batteries to the high bidder if requested.

The Power supply will accept either 115 VAC or 230 VAC at 47 - 440 Hz.