(10) Rolls of Permacel P-440
4-mil PTFE-Coated Teflon Electrical Adhesive
Glass Cloth Tape
No Reserve Price!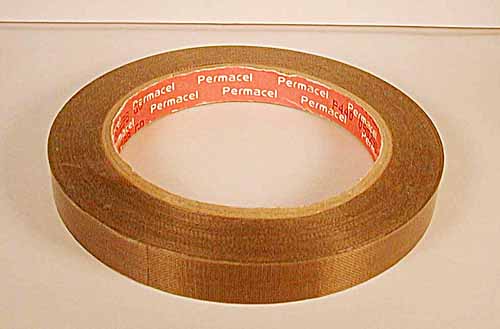 This auction is for (10) rolls of Permacel P-440 Teflon Tape
36 Yards Per Roll
Description:
Multi-use PTFE-impregnated glass cloth tape designed for use as a release surface in resistance and dielectric heat sealing applications. Widely used for heavy-duty lining of conveyor guides, chutes and slides - wherever a clean, slick and rugged surface is vital to speed up the movement of materials. Also recommended for masking parts placed in chemical, cleaning, stripping or electroplasting baths and solutions...and, to wrap conveyor hangers that pass thru paint and coating lines.
Features:
• Chemically inert.
• High temperature resistance
• Boasts a tough, resilient and abrasion resistant backing that exhibits markedly better resistance to cut-thru, cold flow, deformation and shrinkage that unsupported PTFE.
• Superior dimensional stability
• Low coefficent of friction makes for excellent non-stick and anti-friction characteristics
• Performs well under humid conditions...resists wrinkling and blistering...and is tear resistant
• Carries a Class 180º C electrical rating.
Technical Data
Length of Roll: 36 yards
Backing material: PRFE-impregnated glass cloth
Adhesive: Cured Silicone
Total tape thickness: 5.0 mils/0.127 mm
Tensile Strength: 60 lbs. per in./10.76 kg per cm
Adhesion to Steel: 32 oz. per in./356 gm per cm
Dielectric Strength: 6,000 volts
Unwind @ 150 FPM: Must unwind without transfer
Elongation: 2%
Insulation class: 180º C : 356º F
Close-Up Scan of Teflon Tape