EFOS Novacure 2100
Spot Curing System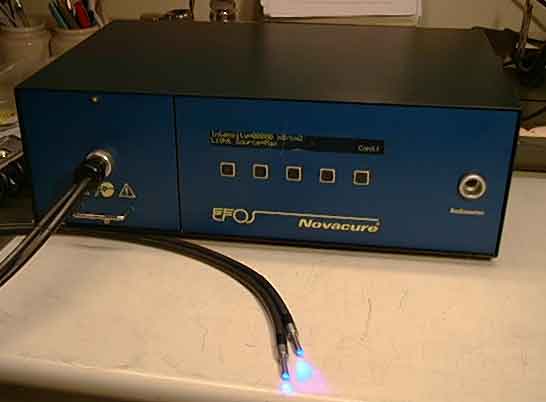 Repeatability and process validation in real manufacturing applications using UV and visible light cured resins are now absolute. The NovacureŽ is the intelligent, logic based spot curing system with full reporting and software driven menu control.
Microprocessing brings NovacureŽ users constant control of up to 20,000 mW/cm square of curing power based on practical, robust EFOS technology proven through years of world wide applications.
Unit is in Excellent shape, functions fine. Radiometer is not included.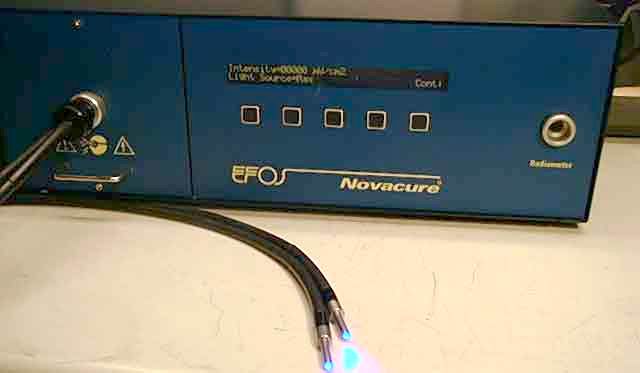 Guaranteed Repeatability of Cures
Process Validation with Reporting
Absolute Light Exposure Control
Simple Menu Interface
Input Output Ports
Up to 20,000 MW/CM Square Curing Power
1,000+ Hour Lamp Life
Optimized Spectral Selections
Slide-Out Lamp Housing
Built-In Radiometer
19" Rack Mount Design
Dual Bi-Directional Shutter
Flexible Light Delivery -Quartz Fiber or Liquid Filled
Thermally Controlled Cooling
Safety Interlocks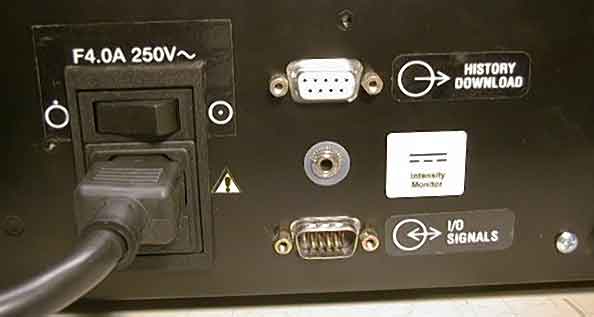 The NovacureŽ provides records showing the bulb number, date, time, accumulated lamp hours, selected intensity, exposure time, dose (joules), number of exposures, and system calibration data. Data can be downloaded to a PC for file storage or printout.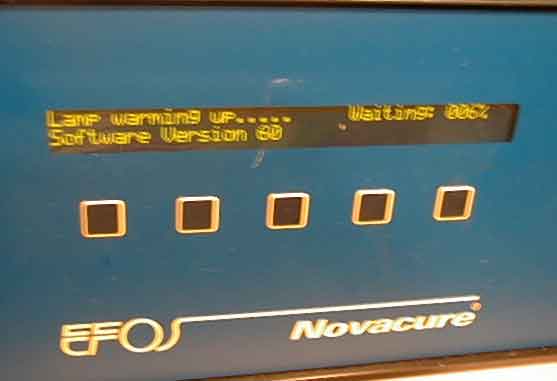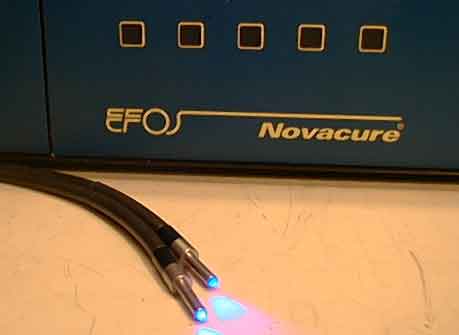 Shipping Policy
Buyer will pay $35.00 packing and shipping in the continental United States. We will make every effort to ship within 24 hours of receipt of payment. We ship with FedEx & UPS only. We will be glad to ship with other carriers using the purchasers shipping account. Please contact us to make any special shipping arrangements. For shipping rate research, our shipping address is Boulder, CO USA ---- Zip Code is 80305.
Foreign buyers: Unless special provisions have been made, you are responsible for making your own shipping arrangements and all costs related to customs, duties & special packaging requirements. Please do not ask us to quote you international shipping rates. Use the address information above to research you own shipping rates. You can email waltwhite@ascentconcepts.com to get the packaging fee, package weight and size for your research. Items sold outside the USA are sold as is.