XILINX
MultiLINX DLC6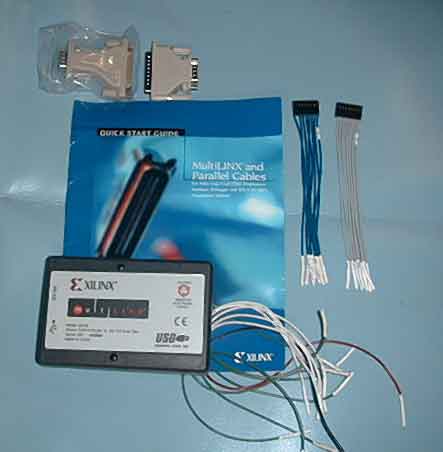 MultiLINX automatically adjusts to operating voltages from 2.5 to 5 volts.
| | | | |
| --- | --- | --- | --- |
| Functions | Platforms | Voltages | Modes |
| Download and Readback | WinNT 4.0 (or higher), Win98, Win2000, Solaris, HP | 2.5, 3.3 and 5 Volt | Slave Serial, JTAG, and SelectMAP |
This system is new in the original box.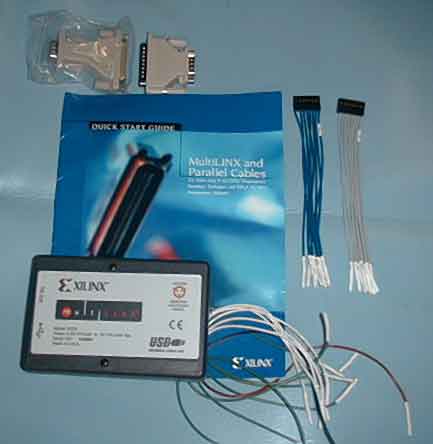 Connecting to the Host Computer
The MultiLINX download cable pod may be connected to either the RS232 serial cable or the USB cable. Only one cable should be used at a time. However, if both cables are connected the RS232 serial cable will override the USB connection. The RS232 cable may be connected directly to the 9-pin port of a PC. The 25-pin adapter allows for connections to the 25-pin serial COM port of a PC or a UNIX workstation. The USB cable is keyed for a "Host" connection at one end (rectangular) and a "function" connection at the other end (square). The square end connects to the MultiLINX cable pod. Do not use with an external USB HUB.
Connecting to a Target System
The MultiLINX cable has four sets of flying-lead connectors that are used to connect your target system. The lead ends fit standard 0.025in2 header pins. The PWR and GND leads may either be connected to the target system or a separate power supply. However, GND should always be common between the target system and the MultiLINX cable for proper I/O communication. The MultiLINX cable requires a 2.5-5V input on the PWR lead and requires approximately 500mA nominally at 3.3v.