Micro Audiometrics
Earscan
Audio Test Set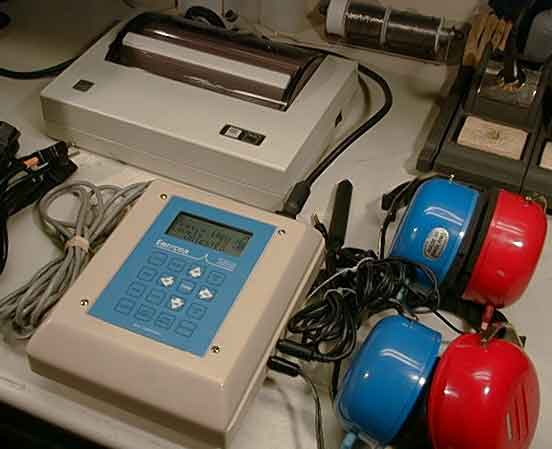 This is a complete audiologist test set. It has the main processor, two sets of headphones, printer, interconnect cables & Travel Case. It is excellent physical and electrical condition with one exception: The headphones are missing the outer rubber ear pad. This item is available from Micro Audiometrics. The Reserve is $800.
The Headphones include are the upgraded version from the TDH-39. The Colored cups you see fit around the internal head set providing superior background noise suppression.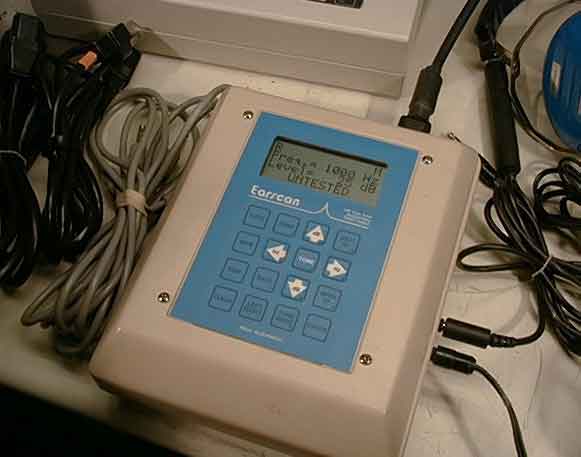 Earscan is a sophisticated, yet easy to use, automatic and manual air conduction audiometer. For the patient who needs individual attention, Earscan can be operated in the manual (operator controlled) mode. In the automatic (microprocessor controlled) mode, Earscan will present and record all left and right ear data automatically. The microprocessor controls the testing, eliminating most operator involvement.

CHOICES: Earscan is available in two versions: as a threshold audiometer, or as a pass/fail screening audiometer. Threshold establishes the patient's ability to hear the lowest possible hearing level. Screening gives a quick indication of the patient's hearing potential based on preset pass/fail criteria.
USER SELECT ABILITY: Earscan incorporates user selectable frequency and intensity levels to optimize test parameters for the best compromise of speed and thoroughness. All testing levels are user selectable prior to testing. At the time of purchase, the user may specify preset levels that will fulfill his testing requirements. If not specified, the most common preset test parameters will be provided.
RELIABLE: Earscan is designed with 100% digital switches and calibration technology which provide long term repeatability. Mechanical signal switches and calibration pots, which are a major cause for instrument failure and calibration drift, have been eliminated.
PORTABLE: Light weight and compact for easy transportation. Optional carrying cases are available.
TEST RESULTS: LCD reports stored test data, allowing the operator to recall established thresholds for both ears. Earscan interfaces with a number of printers for single or multiple hardcopy reports, or to a computer for data management with commercially available software.
UPGRADEABLE: Earscan may be upgraded to include battery backed-up memory for multiple test storage or to a full-featured hearing testing instrument with acoustic impedance and ipsilateral reflex.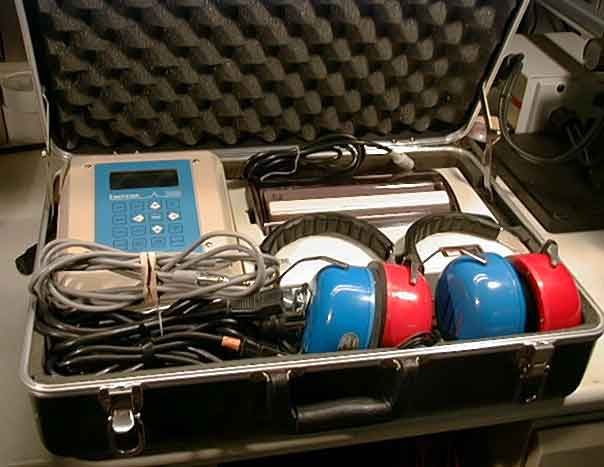 GENERAL
Dimensions
7.5"W x 3"H x 9"D (19cm x 7.6cm x 23cm)
Weight
3 lbs. (1.4 kg)
Power
U.S. and international voltages
Display
LCD; 14 characters x 4 lines
Presentation
(3) 200 msec pulses or continuous tone
Repetition Rate
Pseudo-random intervals
Standard Accessories
TDH-39 headset, patient response button, user's guide
Optional Accessories
Carrying case, noise excluding headphone enclosure, sound room cords, talk over, printers and software (call for availability)
Calibration
First year factory calibration free (U.S. only), ANSI Standard S3.6-1989 for Pure Tone Audiometers
MANUAL AUDIOMETER
Frequencies
Same as for threshold or screening version
Hearing Levels
0-90 dB HL except 250 & 8K Hz to 70 dB HL
Attenuation
+5/-10 dB steps
THRESHOLD AUDIOMETER (selectable)
Frequencies
250*, 1K*, 500, 1K, 2K, 3K, 4K, 6K, 8K Hz
Hearing Levels
0-90 dB HL except 250 & 8K Hz to 70 dB HL
Attenuation
+5/-10 dB steps
SCREENING VERSION (selectable)
Frequencies
250*, 1K*, 500, 1K, 2K, 3K, 4K, 6K*, 8K* Hz
Hearing Levels
25-35 dB HL
Attenuation
+5 dB steps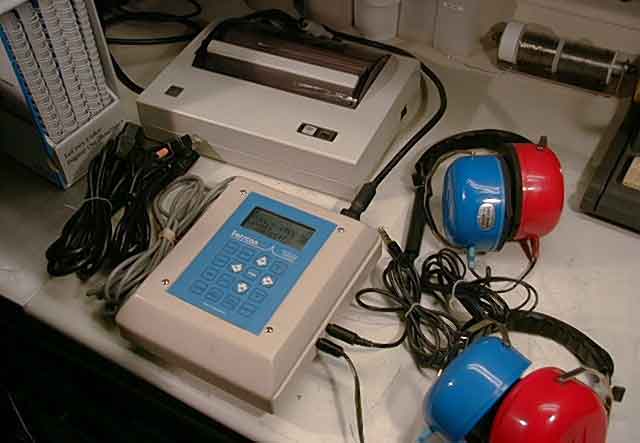 Warranty
As our many customers will attest, we will do our very best to resolve any customer problems. But our official policy is:
All items sold are guaranteed against D.O.A. only.
All claims must be made within 3 days of receipt.
All warranties are void if the calibration / warranty seals are broken.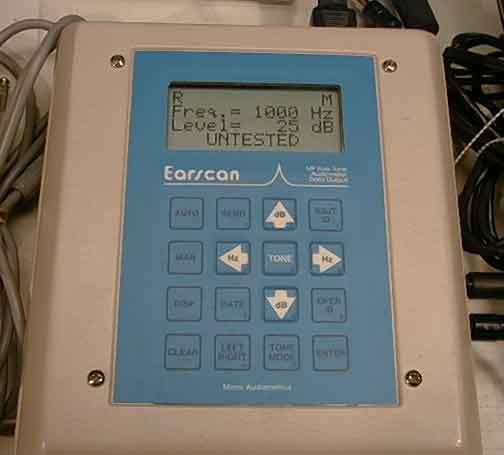 Ascent Concepts and Technologies is a Research & Development Lab. As a service to the companies and institutions we work with, we broker their excess equipment & acting as application specialists on their new equipment needs. We are now offering quality used equipment to the public with the same level of professionalism and service. Please feel free to email at thomasknox@ascentconcepts.com or call Thomas @ 1-303-554-0307 with any Technical questions. Please feel free to email at waltwhite@ascentconcepts.com or call Walt @ 1-720-276-8288 with any Shipping or Logistical questions. We make every effort to evaluate and guarantee our equipment. Although we do not provide NIST traceable calibration, we do have in house calibration equipment and will make every effort to test and verify performance on equipment we sell. However we do not warranty any items shipped outside the United States. All equipment we sell comes with a three day right of return unless stated otherwise.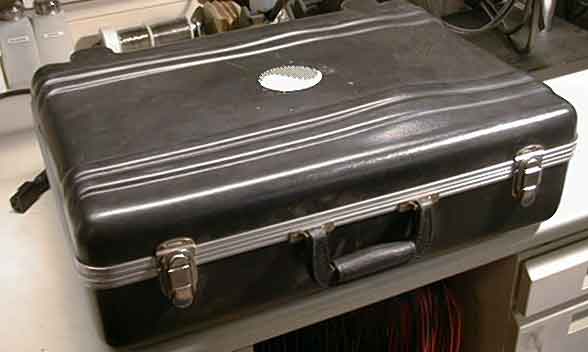 Shipping Policy
Buyer will pay $35.00 packing & shipping in Continental USA. We will make every effort to ship within 24 hours of receipt of payment. We ship with FedEx & UPS only. We will be glad to ship with other carriers using the purchasers shipping account. Please contact us to make any special shipping arrangements. For shipping rate research, our shipping address is Boulder, CO USA ---- Zip Code is 80305.
Foreign buyers: Unless special provisions have been made, you are responsible for making your own shipping arrangements and all costs related to customs, duties & special packaging requirements. Please do not ask us to quote you international shipping rates. Use the address information above to research you own shipping rates. You can email waltwhite@ascentconcepts.com to get the packaging fee, package weight and size for your research. Items sold outside the USA are sold as is.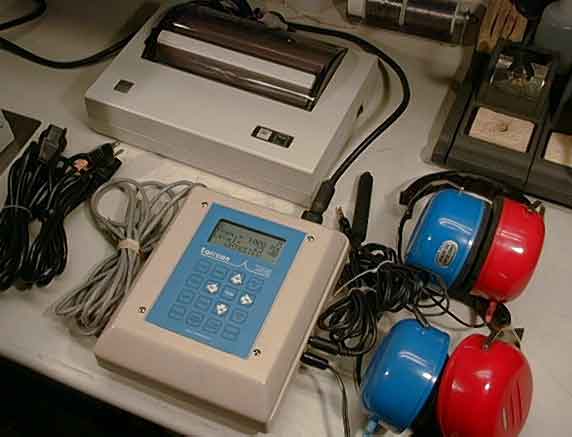 Payment Policy
We accept Credit Card payment through Paypal. We accept Cashiers Check or Money Orders.