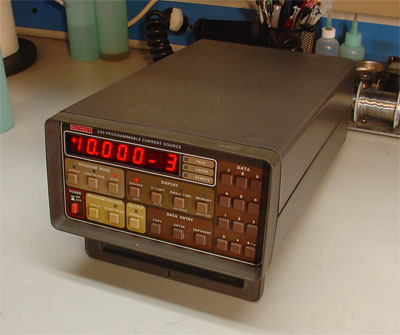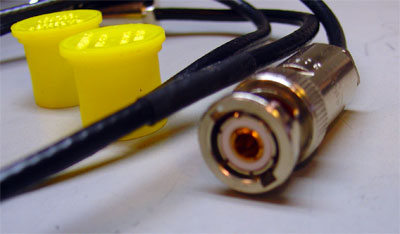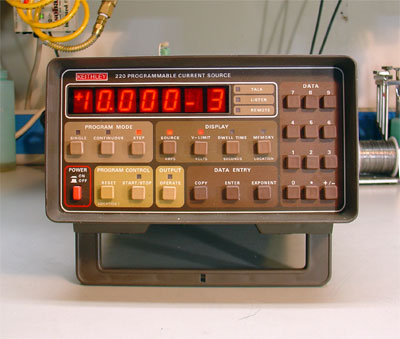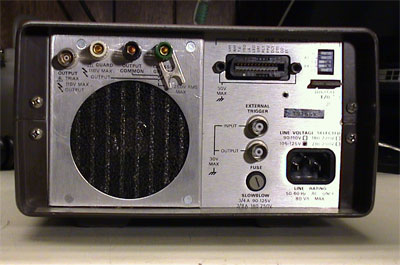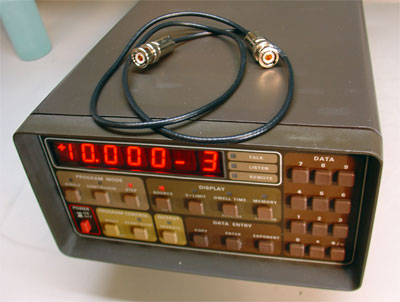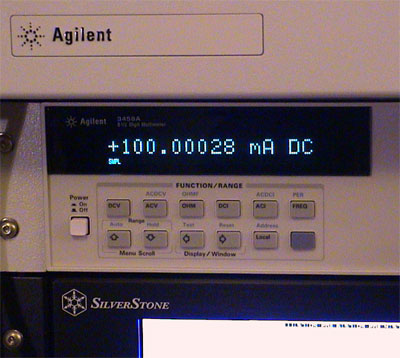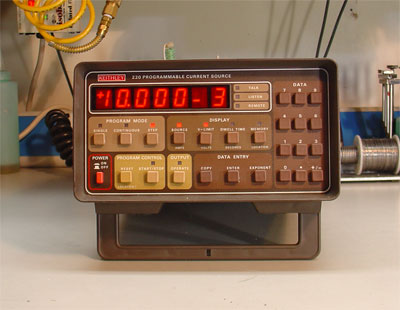 Mint Keithley 220 Programmable Current Source
w/ Very Rare Keithley 7024-3 Triaxial Test Lead
Characteristics:
The Model 220 Current Source is an economical, programmable solution for precision sourcing of DC current. Constant current sources are needed when a device or material is best characterized by controlling the current through it, rather than the voltage across it. Examples are biasing transistor gates with fixed current, making hall effect measurements, and measuring low and high resistances. The Model 220 provides high accuracy and low noise in measurements where currents between 1pA and 100mA are required and programmability is needed.

Output Capacitance: < 20 pF
Voltage Limit: Bipolar, 1 to 105 volts in 1 V programmable steps
Output Load: must be non-inductive
Program Memory:
Number of Locations: 100
Rane of dwell Times: 3 ms to 999.9 s
External Trigger: TTL-compatible External Trigger Input and Output
Output Connections: Teflon insulated 2-lug triax connector (Specialty Connector #30JR121-1) for output; five-way binding posts for GUARD, OUTPUT COMMON, and CHASSIS; BNC (chassis isolated) connectors for EXTERNAL TRIGGER INPUT and OUTPUT, Amphenol or Cinch Series 87 IEEE and printed circuit digital I/O port. All connections on rear panel
Display: 0.5 in LED digits, 4 ½-digit signed mantissa, 1-digit signed exponent
Built-in IEEE-488

Equipment Notes:
This unit is in excellent physical and electrical condition. We ran it on the bench a bit and seems to perform flawlessly. Please contact us for accessories available for this unit.
New MSRP was $4000 back in the day.
Warranty:
This item is sold with a 3 Day Satisfaction Guarantee. So bid with confidence. As our many customers will attest, we will do our very best to resolve any customer problems. But our official policy is:
This item comes with a 3 day right of return policy.
All returns must be made within 3 days of receipt.
All warranties are void if the calibration / warranty seals are broken.
Equipment must be shipped correctly and returned with all accessories.
Customer is responsible for all shipping charges on returns.
Foreign Buyers please be aware: We offer no warranty or returns on items shipped outside the USA
Payment, Shipping & Bidding:
Buyer will pay $40.00 packing and shipping in the continental United States. Payments accepted are Paypal
, cashiers checks and money orders only. No international buyers unless Paypal verified. Please feel free to contact us if you need other arrangements.
We will make every effort to ship within 24 hours of receipt of payment. We ship with FedEx & UPS only. We will be glad to ship with other carriers using the purchasers shipping account. Please contact us to make any special shipping arrangements. For shipping rate research, our shipping address is Boulder, CO USA ---- Zip Code is 80305.
Many of our auctions have a set packaging and shipping fee. This set fee makes the transaction easier and allows the purchaser to send payment at once without having to wait for a shipping total. This is our best guess on an unpackaged item. Please consider the total with shipping when you are bidding.

Foreign buyers: Unless special provisions have been made, you are responsible for making your own shipping arrangements and all costs related to customs, duties & special packaging requirements. Please do not ask us to quote you international shipping rates. Use the address information above to research you own shipping rates. You can email sales@ascentconcepts (no spam) .com to get the packaging fee, package weight and size for your research. Items sold outside the USA are sold as is.
Bidders - with no feedback or less then 80% positive feedback must contact us through the eBay email system before placing a bid. We will reply through the same system, documenting that you have been approved to bid. If you do not follow these procedures, your bid will be cancelled. All other bidders, bid with confidence.
About Us:
Ascent Concepts and Technologies is a Research & Development Lab. As a service to the companies and institutions we work with, we broker their excess equipment & act as application specialists on their new equipment needs. We are now offering quality used equipment to the public with the same level of professionalism and service.
Please feel free to email at thomasknox@ascentconcepts (no spam) .com or call Thomas @ 1-303-554-0307 with any Technical questions. Please feel free to email at waltwhite@ascentconcepts (no spam) .com or call Walt @ 1-720-276-8288 with any Shipping or Logistical questions. We make every effort to evaluate and guarantee our equipment. Although we do not provide NIST traceable calibration, we do have extensive in house calibration equipment and make every effort to test and verify performance on equipment we sell. However we do not warranty any items shipped outside the USA.