HP 58503A
GPS Time & Frequency
Reference Receiver
w/Datum GPS Reference Timing Antenna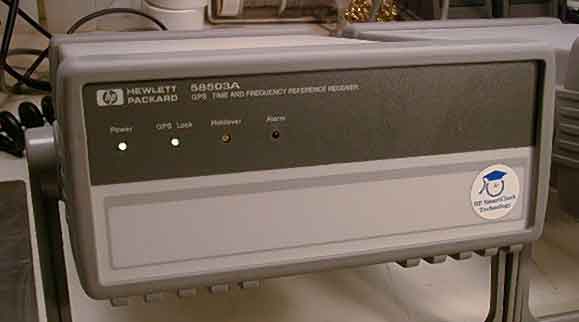 The Hewlett-Packard 58503A GPS receiver provides a primary standard level of time & frequency accuracy in a true Plug-n-Play, portable package that can quickly lock on GPS signals in virtually any location. All these features combined provide a time base far more versatile then the Cesium standards they were designed to replace. The HP 58503A generates precise 10MHz and 1pps signals using HP's proprietary SmartClockTM technology utilizing a precision quartz oscillator and incorporates an RS232 port for monitoring and control.
The auction includes several version of software for use with the HP 5805A and manuals for the HP 58503B which is almost identical to the HP 58503A
This is a very late model HP 58503A. It is the later Agilent grey color. It's performance is exceptional. It is perhaps the best performing GPS receiver we have ever tested in our lab. It's physical condition is perfect.

This unit includes a Datum GPS Reference Timing Antenna. Although this system is Plug-n-Play, many additional features can be accessed through the RS232 port from your computer using the included Operations Software. Also included on the software CD is the manuals and additional technical information for the 58503B. The accuracy of this GPS receiver's 10MHz output can be seen in the photos with the 53131A counter disciplined to our Cesium standard.
This setup demonstrates not only the receivers accuracy but exceptional sensitivity since the lab and antenna are on a sub floor of our building (below ground) and still provided an excellent GPS lock.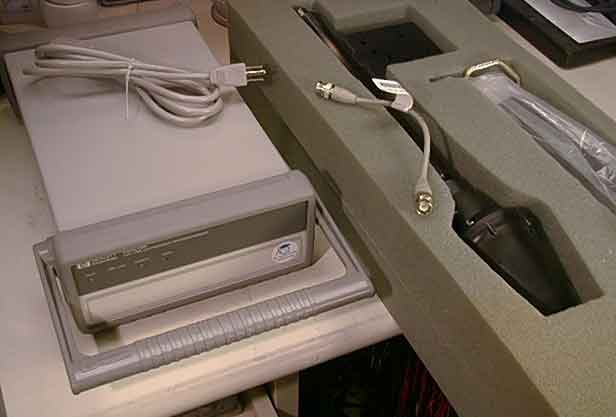 Form Factor:
Benchtop
Type:
Quartz/GPS
GPS Receiver:
6-Channel Parallel Tracking
Frequency:
10 MHz 1pps
10 MHz Output Characteristics
< 1x10-12 Locked
Hold Over Aging:
< 1x10-10/24 Hours
Root Allan Variance
1 sec 5x10-12
Phase Noise:
-85 dBc/Hz -125dBc/10 Hz
Amplitude 10MHz:
1 Vrms
Impedance:
50 Ohm
User Interface:
Proprietary
Ports to Peripheral Devices:
RS232C
Input Power:
Universal 90-260 Vac & 50-60Hz