HP 58503A
GPS Time & Frequency
Reference Receiver
w/HP 58532A GPS Reference Antenna & Software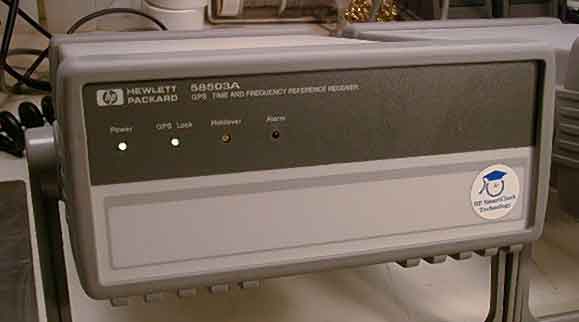 The Hewlett-Packard 58503A GPS receiver provides a primary standard level of time & frequency accuracy in a true Plug-n-Play, portable package that can lock on GPS signals in virtually any locations in 5 to 25 minutes. All these features combined provide a time base far more versatile then the Cesium standards they were designed to replace. The HP 58503A generates precise 10MHz and 1pps signals using HP's proprietary SmartClockTM technology utilizing a precision quartz oscillator and incorporates an RS232 port for monitoring and control.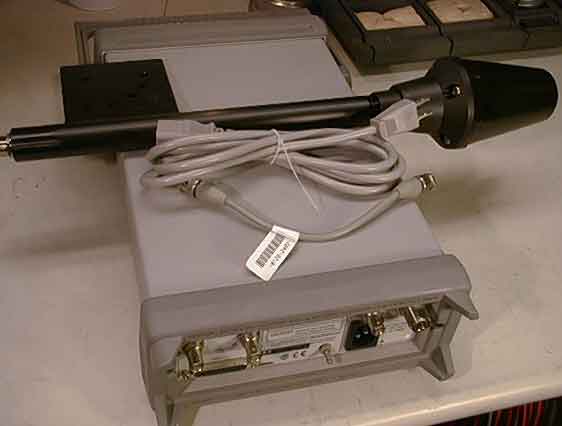 This unit includes a Symmetricom (HP) 58532A GPS Reference Antenna which is designed to complement the performance of the HP 58503A. Although this system is Plug-n-Play, many additional features can be accessed through the RS232 port from your computer using the included Operations Software. Also included on the software CD is the manuals and additional technical information for the 58503B. The accuracy of this GPS receiver's 10MHz output can be seen in the photos with the 53131A counter disciplined to our Cesium standard. This setup demonstrates not only the receivers accuracy but exceptional sensitivity since the lab and antenna shown are on a sub floor of our building (below ground) and still provided an excellent GPS lock. 10MHz output can be configured to front or rear connector.

Form Factor:
Benchtop
Type:
Quartz/GPS
GPS Receiver:
6-Channel Parallel Tracking
Frequency:
10 MHz 1pps
10 MHz Output Characteristics
< 1x10-12 Locked
Hold Over Aging:
< 1x10-10/24 Hours
Root Allan Variance
1 sec 5x10-12
Phase Noise:
-85 dBc/Hz -125dBc/10 Hz
Amplitude 10MHz:
1 Vrms
Impedance:
50 Ohm
User Interface:
Proprietary
Ports to Peripheral Devices:
RS232C
Input Power:
Universal 90-260 Vac & 50-60Hz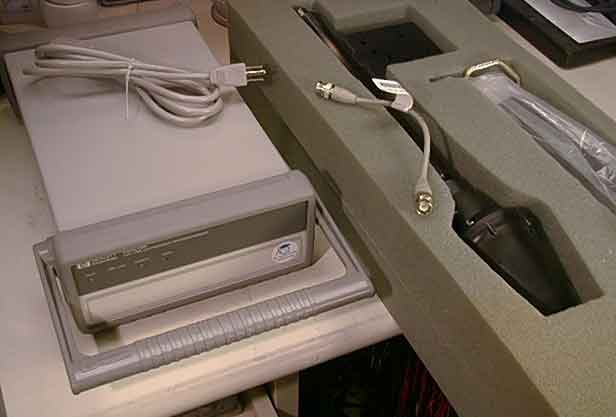 Warranty
As our many customers will attest, we will do our very best to resolve any customer problems. But our official policy is: All items sold are guaranteed against D.O.A. only. All claims must be made within 3 days of receipt. All warranties are void if the calibration / warranty seals are broken. This warranty is void if the seals are broken.
Ascent Concepts and Technologies is a Research & Development Lab. As a service to the companies and institutions we work with, we broker their excess equipment & acting as application specialists on their new equipment needs. We are now offering quality used equipment to the public with the same level of professionalism and service. Please feel free to email at thomasknox@ascentconcepts.com or call Thomas @ 1-303-554-0307 with any Technical questions. Please feel free to email at waltwhite@ascentconcepts.com or call Walt @ 1-720-276-8288 with any Shipping or Logistical questions. We make every effort to evaluate and guarantee our equipment. Although we do not provide NIST traceable calibration, we do have in house calibration equipment and will make every effort to test and verify performance on equipment we sell. However we do not warranty any items shipped outside the United States. All equipment we sell comes with a three day right of return unless stated otherwise.
Shipping Policy
Buyer will pay $30.00 packing & shipping in Continental USA. We will make every effort to ship within 24 hours of receipt of payment. We ship with FedEx & UPS only. We will be glad to ship with other carriers using the purchasers shipping account. Please contact us to make any special shipping arrangements. For shipping rate research, our shipping address is Boulder, CO USA ---- Zip Code is 80305.
Foreign buyers: Unless special provisions have been made, you are responsible for making your own shipping arrangements and all costs related to customs, duties & special packaging requirements. Please do not ask us to quote you international shipping rates. Use the address information above to research you own shipping rates. You can email waltwhite@ascentconcepts.com to get the packaging fee, package weight and size for your research. Items sold outside the USA are sold as is.
Payment Policy
We accept Credit Card payment through Paypal. We accept Cashiers Check or Money Orders.