HP 54603B 2-Channel
60 MHz Digital Oscilloscope
No Reserve Price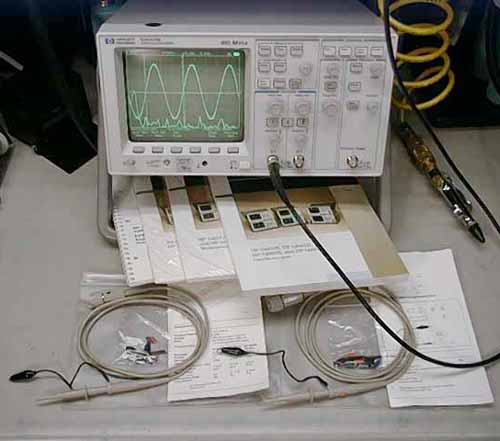 Included:
* HP 54603B Oscilloscope
* Agilent 54657A Measurement/Storage Module GPIB Interface
* (2) HP 10073A 500MHz Probes
* HP 54603BUser & Service Manual
* HP 54657A Users Guide
* HP 54600 I/O Function Guide
* HP FFT Lav Experiments Notebook
* HP 34810B Benchlink Scope Software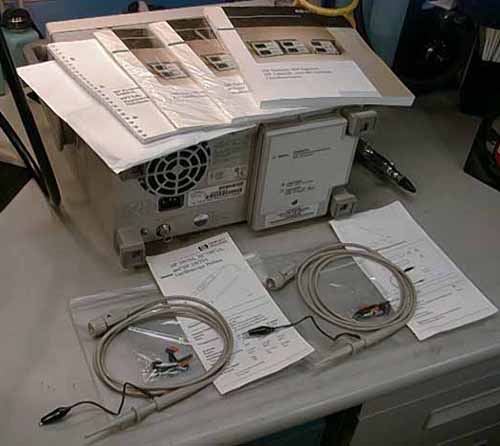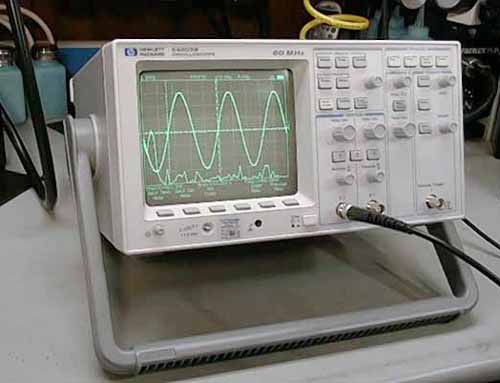 This particular unit is very clean is in both excellent physical and electrical condition. It is in current calibration until near the end of the year.
The HP 54603B is fully tested and functions flawlessly. It has a 3-day Right of Return Warranty.
Click Here For HP 54600-Series Data Sheet
Characteristics:
The Agilent 54603B 2 channel 60 MHz Oscilloscope delivers the features and performance you've always wanted. Equipping a lab under budget constraints used to mean giving up quality and capability. Not anymore. For colleges and universities, this scope is a great way to introduce students to the world of professional test equipment. This scope also benefits from the advance features of the HP 54657A Measurement and Storage Module. The HP 54657A Measurement Storage module with GPIB interface works directly with the HP 54600 series of oscilloscopes. It offers 19 different automatic measurements including waveform math functions, FFT spectrum analysis, and mask testing. It also offers storage (up to 100 nonvolatile memories), and unattended waveform monitoring.
Features:
Type: Digital
Frequency Range/ Bandwith: 60 MHz
Max. Vertical Sensitivity: 5 V/div
Number Of Channels: 2 Ch
Other Features: 2 mV/dic
Record Length: 4000 pt/sec
Sample Rate: 20 MSa/s