HP 5061B Cesium
Frequency Standard
Option 003 & 004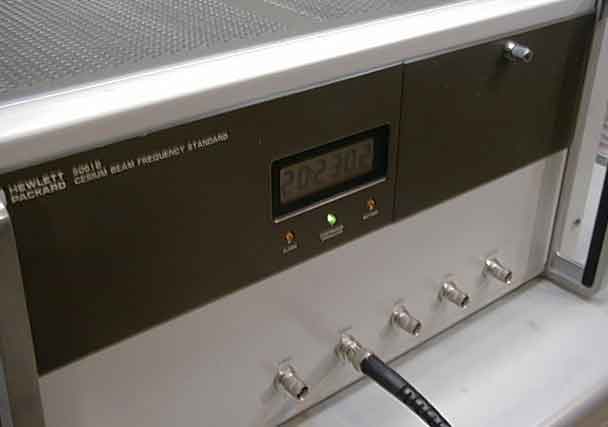 MSRP of the 5061B is $45,700.00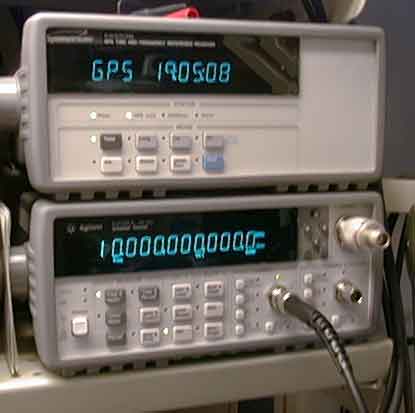 This HP 5061B Frequency Standard has the following features:
Rated Accuracy ±2x10-12

Option 003 clock & standby power supply (Please read description).

Option 004 High Performance Cesium Tube (Please read description).

Quartz Oscillator Upgraded to 3010.

Front outputs for 1PPS, 10MHz, 5MHz, 1MHz & 100KHz

Rear outputs for 1PPS, 10MHz, 5MHz, 1MHz, 100KHz & several different outputs for control and sync functions.

AC and DC power inputs.

Copy of the Operating Information Manual

Copy of the Operation and Service Manual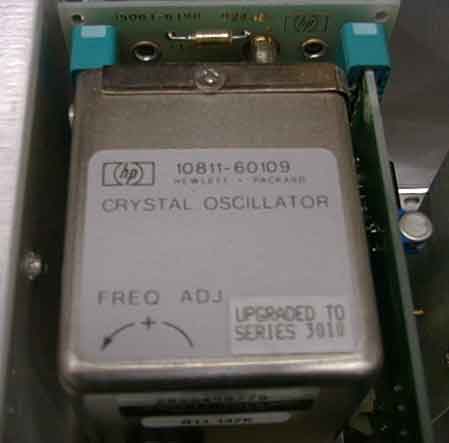 High Performance Oscillator 3010 Upgrade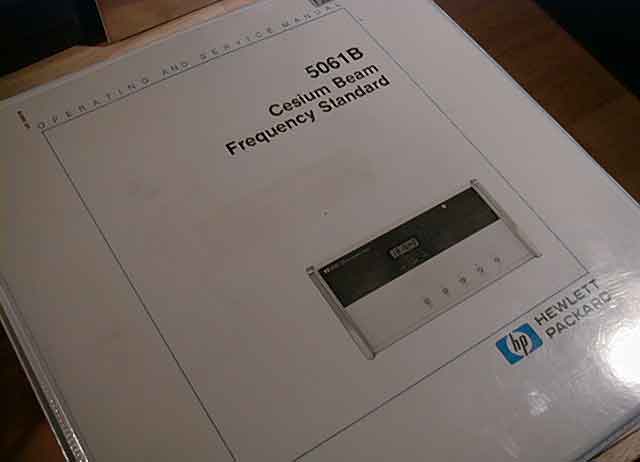 ---
During our testing, the HP5061B demonstrated exceptional performance. The 5061B locked and the system operated correctly.
We did not go through all the fine adjustments to get the maximum performance from the system, but what we saw was very impressive.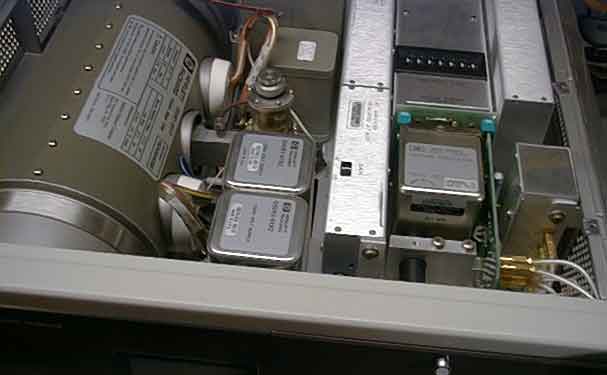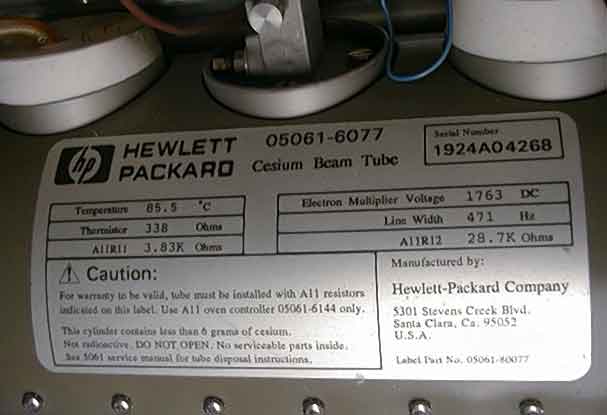 For those of you that are well versed with the HP 5061B or other Cesium Clocks, our tests showed the following:
When locked, the system had a combined uncertainty better then spec. This includes the combined uncertainty of the HP 5061B tracked against our Agilent 53132A counter locked to our Agilent 58503B GPS clock. We have not seen better performance with any other clock we have worked with. Another item of note is that during warm up with the crystal oscillator alone. It showed the best performance I have seen from a crystal oscillator.
The ion pump on the 5061B was very high when the unit arrived. This is typical of a unit that has been stored for an extended period of time. After 24 hours, it dropped to a point where the 5061B had no problem locking but was still a bit high. There are procedures in the manual for establishing a vacuum if the unit has been stored for an extended period and a cesium lock can not be established after a 24 hour warm up period. These procedures require use of an external 3500 VDC 5ma power supply to establish a better vacuum before switching to normal operation. This may be necessary to achieve a better vacuum specification.
This HP 5061B has tags on the rear showing option 003 (The clock and standby power supply) and 004 (high performance cesium tube) are installed but I am not sure the tube is the high performance version so check out the photos of the tube. Be aware even though the stand by power supply and clock are installed, the batteries are not in the unit.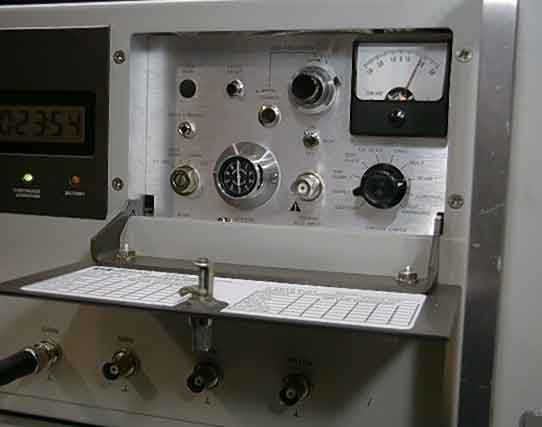 IBeam Current Set In Perfect Adjustment For Normal Operation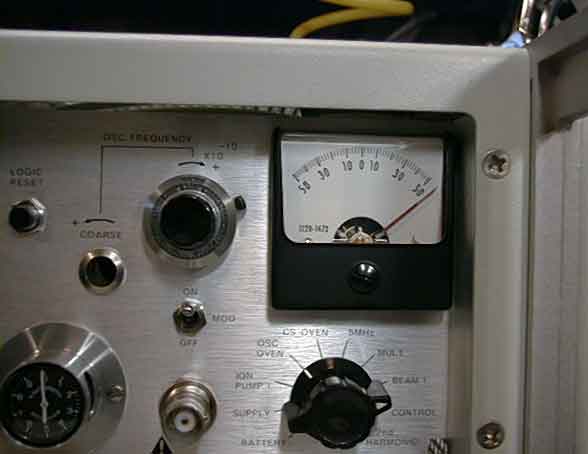 IBeam current can easily be adjusted to peg the meter,
a good sign showing plenty of tube life.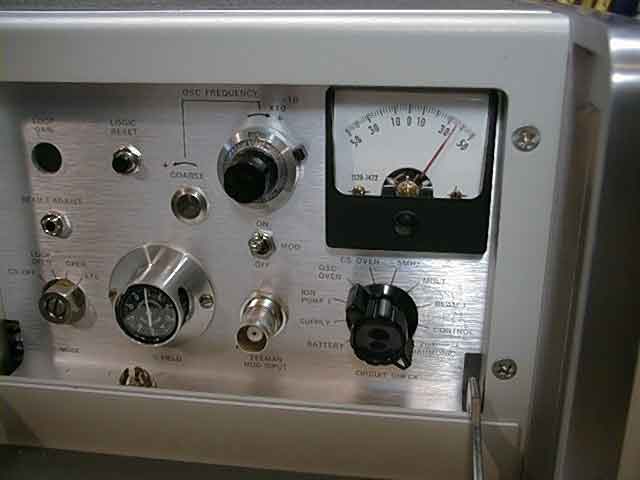 Second Harmonic In Perfect Adjustment For Normal Operation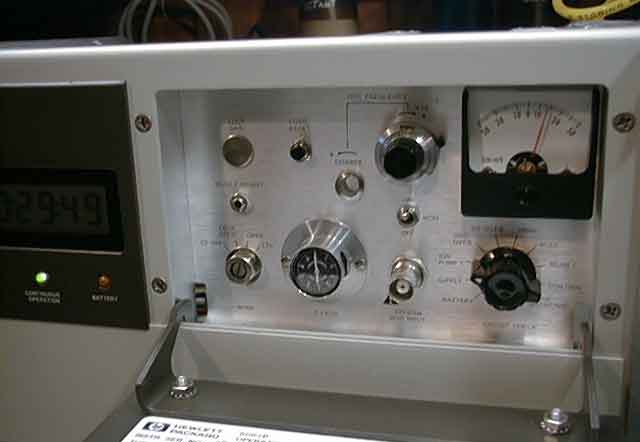 Ion Pump is a bit high, most likely due to long storage.
The instrument is in excellent physical condition. Although it has a few minor dings and scratches that can be seen in the photos.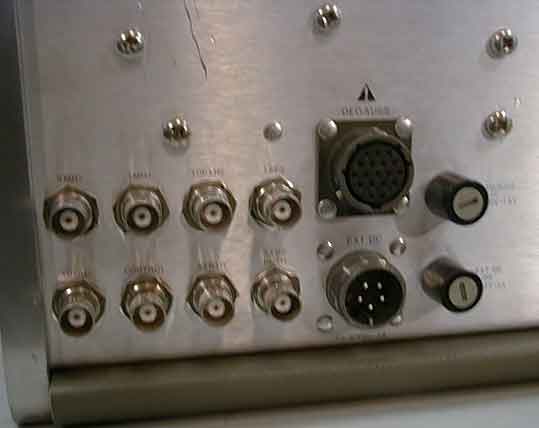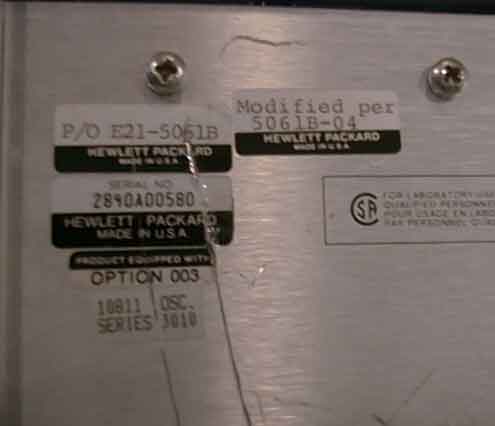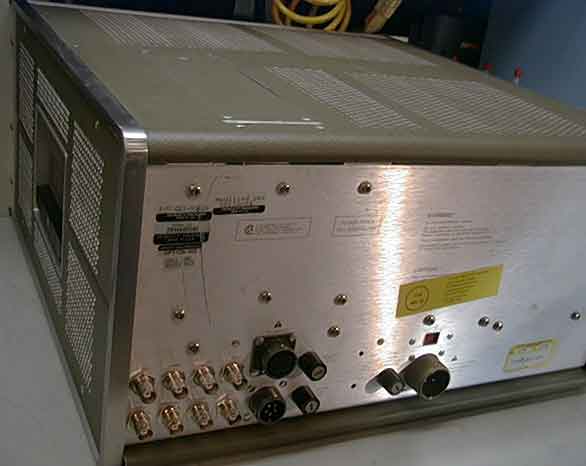 Power cord is not included. We will put a standard AC Power Connector on the unit if requested by the high bidder.