HP Spectrum / Network Analyzer System
HP 141T Display
HP 8553B RF Section
HP 8552B IF Section
HP 8443A Tracking Generator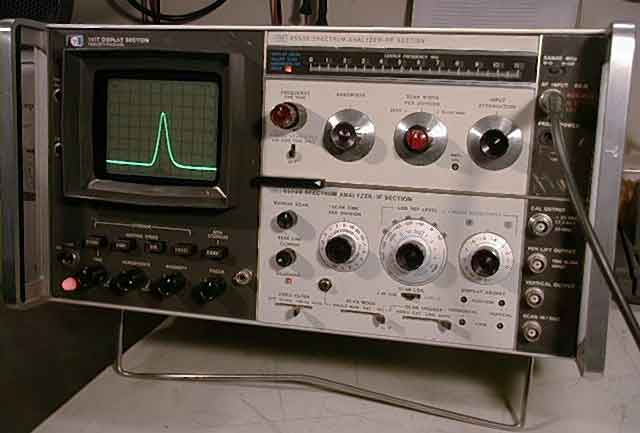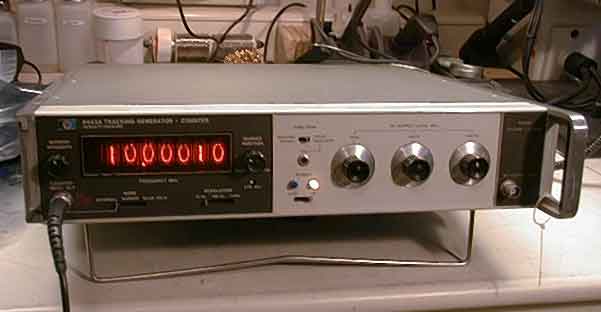 This System is in good physical and electrical condition. We could not fully test the tracking generator. It did perform well as a frequency counter. One item of note is that one side of each front handle on the 141T is cracked. Also one handle of the HP 8443A Tracking Generator has a cracked handle as well. No cables are included with the unit to connect the tracking generator to the spectrum analyzer.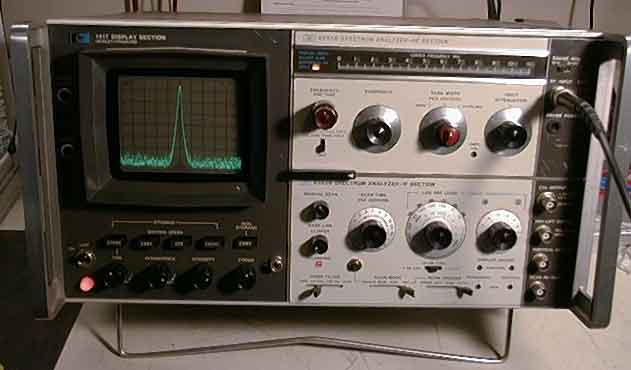 141T DISPLAY
The Model 141T is designed for use as a display section for the HP Model 141T / 8550-series plug-in spectrum analyzer. The instrument has variable persistence (duration of trace afterglow) and storage of CRT displays. Persistence is variable from 0.2 second to more than 60 seconds. A display can be stored (at reduced intensity ) for more than 2 hours or displayed normal intensity for up to 1 minute. Stored displays can be erased in 35o milliseconds.
Variable persistence is especially useful for viewing slow-sweep signals. The persistence of the signals can be adjusted to provide a complete trace, yet to fade fast enough to prevent interference with the next trace and can be adjusted to eliminate flicker and still provide high resolution.
The storage feature of the instrument can be used to store single-shot waveforms and to later view or photograph the phenomena. Comparison of waveforms can be accomplished by storing several displays separately and then viewing them simultaneously.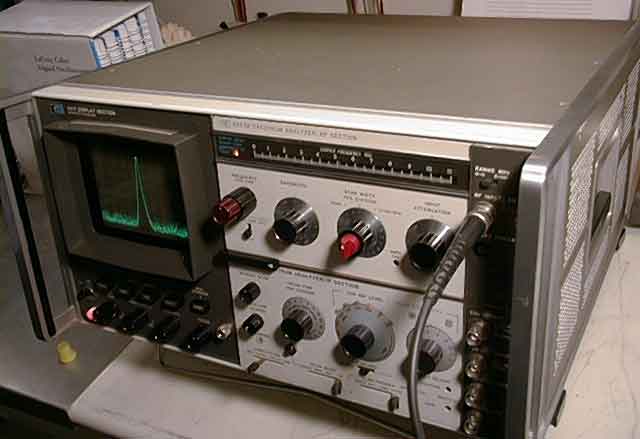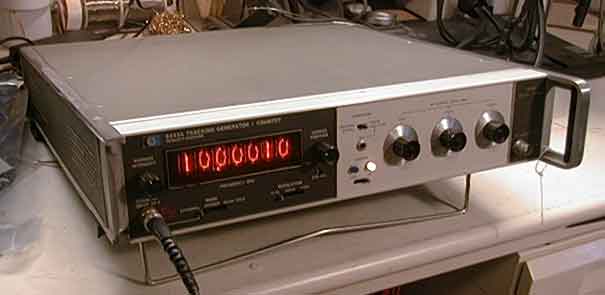 8553B Spectrum Analyzer RF Section
Input Impedance: 50 ohm nominal. Reflection coefficient<0.13, input attenuator>=10dB.

Maximum Input Level: peak or average power +13 dBm, +- 50V dc.

Scan Time: 16 internal scan rates from 0.01 ms/div. to 10 sec./div in a 1,2,5 sequence, or manual scan.

Scan Mode:

INT: Analyzer repetitively scanned by internally generated ramp; synchronization selected by scan trigger.
SINGLE: Signal scan with reset actuated by front panel pushbutton.
EXT: scan determined by 0 to +8 volt external signal; scan input impedance >10K,
BLANKING:-1.5 V external blanking signal required.
MANUAL: Scan determined by front panel control; continuously variable across CRT in either direction.

Scan Trigger: For Internal Scan Mode, select between:

AUTO: Scan free runs.
LINE: scans synchronized with power line frequency.
EXT: Scan synchronized with>2 volt (20 volt max.) trigger signal
VIDEO: Scan internally synchronized to envelope of RF input signal

Auxiliary Outputs:

VERTICAL OUTPUT: Approximately 0 to -0.8 V for 8 division deflectrion on CRT display; parox. 100 ohm output impedance.
SCAN OUTPUT: Approx. 5 to +5 V for 10 div CRT deflection, 5 k ohm output impedance
PEN LIFT OUTPUT: 0 TO 14 V, Output available in Int and Single Scan modes and Auto, Line, and Video scan trigger.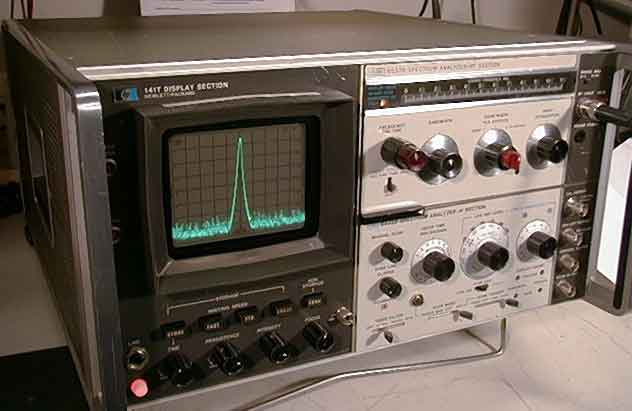 8552B Spectrum Analyzer IF Section
Resolution:

BANDWIDTH: IF bandwidths of 10 Hz to 300 kHz provided in a 1,3 sequence.
BANDWIDTH ACCURACY: Individual IF bandwidth 3 dB points calibrated to +-20%
BANDWIDTH SELECTIVITY: 60 dB/3 IF bandwidth ratio<11:1 for IF bandwidths from 10 Hz to 3 kHz and <20:1 for IF bandwidths form 10 kHz to 300 kHz, 60 dB points separated by <100 Hz for 10 Hz bandwidth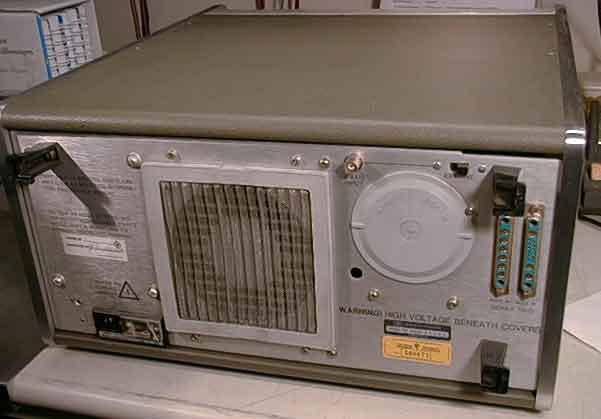 HP 8443A Tracking Generator
Provides a CW signal, from 100 kHz to 110 MHz, which tracks the frequency tuning of the Spectrum Analyzer or restores the Spectrum Analyzer input signal. The 8443A also includes a 7-digit frequency counter section which can monitor internal or external signals up to 120 MHz.
Amplitude range: -120 dBm to +10 dBm. Track Analyzer Mode of the 8443A displays the counted frequency of a tunable marker. It has an internal ovenized 1 MHz timebase with an accuracy of 1 x 10-9.
We just received another HP 8443A Generator. If the new one functions correctly, it will be substituted for the one in the photos. It is very clean physically and does not have the cracked handle.