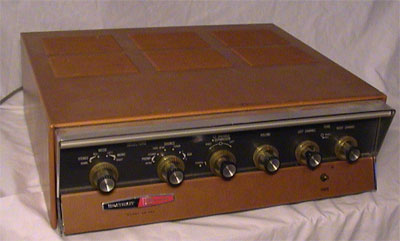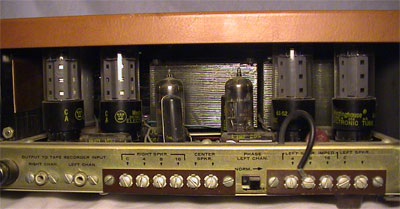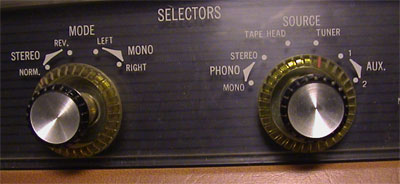 Heathkit / Daystrom AA-100
Stereo Receiver
Characteristics:
50 hi-fi rated watts (25 watts per channel)

5 stereo inputs

Versatile controls

Mixed-channel speaker output

Separate monophonic phono input
Channels: 2. Power output: 50 watts (25 w. per channel) Heath Hi-Fi Rating; 60 watts (30 w. per channel) IHFM Music Power Output (0.7% THD, 1kc). Power response: ± 1 db from 30 cps to 15 kc at 25 watts output per channel. Harmonic distortion: Less than 0.5% at 25 watts, 1 kc. Less than 2% at 25 watts 30-15000 cps (each channel). Intermodulation distortion: Less than 1% at 25 watts, 60 and 6,000 cps signals mixed 4:1 (each channel). Hum and noise: Mag phono, 55 db below 25 watts output at 6 mv sensitivity. Tape head, 35 db below 25 watts output. Tuner and aux. inputs 70 db below 25 watts output. Channel separation: 42 db min. at 1 kc. Input sensitivity: For 25 watts output per channel, mono mag. phono, 1.5 mv, stereo mag. phono, 1.5 mv; tape head, 1 mv; tuner, 0.2 v.; aux 1 & 2, 0.2 v. Input impedance: Mag phono, 47 K ohms (may be changed); tape head, 470 K ohms; tuner & aux., 250 K ohms each. Outputs: 4, 8 and 16 ohms; cathode follower tape recorder outputs. Damping factor: 15. Controls: Function switch (4-position); selector switch (6-position); balance control (total range, 16 db); separation control; ganged level controls; dual-concentric bass & treble controls; phase and power switch. Tube complement: 2-EF86, 4-12AX7, 2-7199, 4-7591, 1-GZ34, 1-selenium bias rectifier. Power requirements: 117 volts, 50/60 cycles. 150 watts. Power outlets: 2 AC receptacles, 1 switched, 1 unswitched. Dimensions: 5½" H. x 15¾" W. x 13½" D. (allow 1" for cables at rear). Shipping Weight: 31 lbs.
Year introduced: 1962
The Heathkit AA-100 Deluxe Stereo Amplifier stands heads and shoulders in value above any other stereo amplifier in the kit industry. Packed full of exciting features, this high-fidelity rated 50 watt amplifier outperforms units selling for twice its price. It's a mere $84.95 in kit form, that's just $1.70 a watt for two 25-watt channels of distortion-free power to handle every amplifying task in your stereo system.
The five stereo inputs can be utilized to the advantage of your individual taste and system components ... there's a stereo magnetic phono input, a pair of tuner inputs for AM and FM, a pair of tape inputs and two pairs of auxiliary inputs. A separate monophonic magentic phonograph input is also available. The input layout is further enhanced by the fact that tape playback heads can be accepted directly without external preamplification or equalization.
In addition to three different stereo speaker impedances, the AA-100 has a "mixed-channel" speaker output that can be used for stereo "center fill-in" or for monophonic sound in other rooms. The cathode follower outputs for tape recorders insure true sound reproduction without high frequency loss, regardless of the distance between the amplifier and the recorder.
The many controls of the Heathkit AA-100 speak clearly of it's versatility and capability in any situation. Included are preamplifier input level controls, power amplifier input level controls, hum controls, "mode" selector, speaker phase reversal switch, baance and separation controls, ganged volume controls and separate concentric bass and treble tone controls to put you in complete command of every function with assurance of peak performance.
While the electronics of the AA-100 are enough to prove this stereo amplifier the best buy on the market today, the wonder styling features of this beauty make it an even greater value. The luggage tan vinyl-clad steel cabinet looks and feels like real leather, but is practically indestructible because of its mar, scratch and stain-resistant qualities. The fabulous AA-100 is the "stereo-twin" of the famous Heathkit AJ-30 Stereo AM/FM Tuner ... they look alike, and will fit in any room decor in your home.
Equipment Notes:
The unit does not power up but it has the Vacuum Tubes still intact. I don't know what is wrong with it and don't have the time or desire to fix it.
Warranty:
This item is sold as is.
Payment, Shipping & Bidding:
Buyer will pay $20.00 packing and shipping in the continental United States. Payments accepted are Paypal, cashiers checks and money orders only. No international buyers unless Paypal verified. Please feel free to contact us if you need other arrangements.
We will make every effort to ship within 24 hours of receipt of payment. We ship with FedEx & UPS only. We will be glad to ship with other carriers using the purchasers shipping account. Please contact us to make any special shipping arrangements. For shipping rate research, our shipping address is Boulder, CO USA ---- Zip Code is 80305.
Many of our auctions have a set packaging and shipping fee. This set fee makes the transaction easier and allows the purchaser to send payment at once without having to wait for a shipping total. This is our best guess on an unpackaged item. Please consider the total with shipping when you are bidding.

Foreign buyers: Unless special provisions have been made, you are responsible for making your own shipping arrangements and all costs related to customs, duties & special packaging requirements. Please do not ask us to quote you international shipping rates. Use the address information above to research you own shipping rates. You can email sales@ascentconcepts (no spam) .com to get the packaging fee, package weight and size for your research. Items sold outside the USA are sold as is.
Bidders - with no feedback or less then 80% positive feedback must contact us through the eBay email system before placing a bid. We will reply through the same system, documenting that you have been approved to bid. If you do not follow these procedures, your bid will be cancelled. All other bidders, bid with confidence.
About Us:
Ascent Concepts and Technologies is a Research & Development Lab. As a service to the companies and institutions we work with, we broker their excess equipment & act as application specialists on their new equipment needs. We are now offering quality used equipment to the public with the same level of professionalism and service.
Please feel free to email at thomasknox@ascentconcepts (no spam) .com or call Thomas @ 1-303-554-0307 with any Technical questions. Please feel free to email at waltwhite@ascentconcepts (no spam) .com or call Walt @ 1-720-276-8288 with any Shipping or Logistical questions. We make every effort to evaluate and guarantee our equipment. Although we do not provide NIST traceable calibration, we do have extensive in house calibration equipment and make every effort to test and verify performance on equipment we sell. However we do not warranty any items shipped outside the USA.