Elgar 1001 SX
w/Series 9012
Plug In Oscillator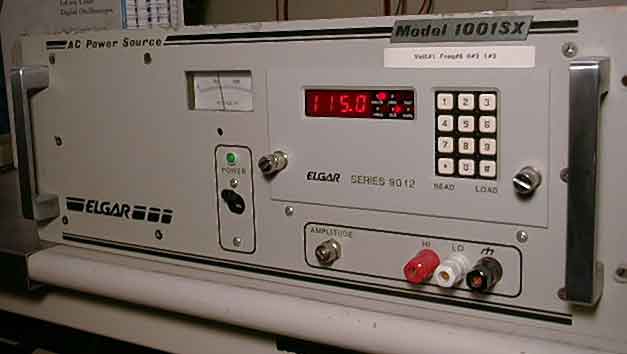 This auction includes one Elgar 1001SX with a Series 9012 Plug in controller. If the time has come for an AC power source a bit more sophisticated then your old Variac, this Elgar system is just what you need. The system was just pulled from service in our lab and performs flawlessly. Included in this auction are the manuals for both the 1001SX and the 9012. We have several additional 1001SX and SL slave units. We will be glad to list for you if you are interested.
Elgar 1001SX
The Elgar 1001SX AC linear power source is an extremely versatile design that can meet all your needs. It is fully capable of driving complexed loads such as non-linear, capacitive input filter rectifier loads. It also meets all the electrical power requirements for testing modern switch mode DC power supplies.
Increased peak power capacity and a reduced physical size make the 1001SX unit ideal for bench top testing as well as for automated DC power supply test systems.
9012 Plug In
The Elgar 9012 is ready to plug in to any of our full line of AC linear power sources. They are programmable via the IEEE-488 GPIB bus, or locally from the front panel keypad.
Whether you need a variable voltage, variable frequency, current limited supply for test and repair, foreign power requirements, automated test equipment (ATE), aircraft ground support, production lines or laboratories the series 9012 provide reliable programming that is easy to use. Elgar programmers are used in aerospace, military, commercial and telecommunications electronic applications around the world.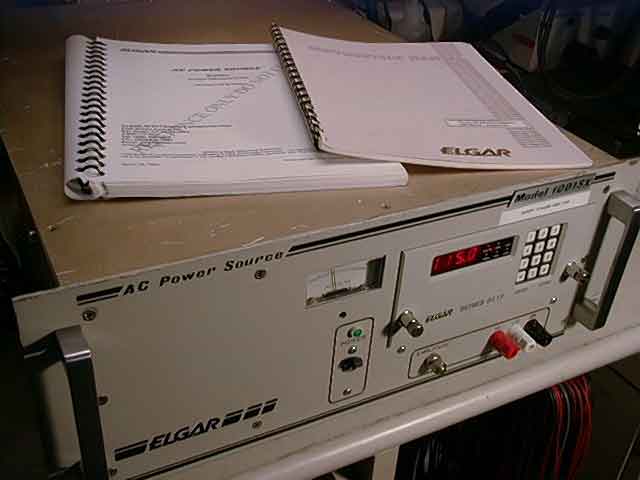 Output
Voltage Range: 0-130 / 0-260 VAC (varies per model). Specific output range is selected by jumper change on rear panel. Consult Elgar for other voltage ranges.

Power Range: 0 to 1000 Watts

Rated Power Voltage Range: Full rated VA from 55-65 VAC, 110-130 VAC, or 220-260 VAC over a ±10% input and rated PF range. Continuous duty at 150% of rated capacity at 55°C*

Load Power Factor: Unity to ±0.7 PF to rated VA with an output voltage adjustment range of 80-100% of full scale*

Frequency Range: 45 Hz to 1kHz

Total Harmonic Distortion:
0.5% from 45 Hz to 1 kHz with linear load
1.0% from 45 Hz to 75 Hz with pulsed load
4.0% from 75 Hz to 450 Hz with pulsed load

Load Regulation: ±1% from 45 Hz to 450 Hz with pulsed load or from 45 Hz to 1 kHz with linear load

Line Regulation: ±0.25% at rated load for a ±10% input change at full scale output voltage

Response Time: <2 ms

AC Noise Level: 70 dB below full output voltage with input grounded
Input
Voltage: 115/208/230 VAC, ±10% (208 VAC not available on 501 SX.) User selectable (See model description)

Frequency: 47 to 63 Hz (400 Hz option, special order)

Efficiency: Up to 45%
General
Operating Temperature Range: 0° to +55°C

Operating Humidity Range: Up to 95% non-condensing

Metering: 0 to 300 VAC output voltmeter, ±3% accuracy

Controls: Input power switch/circuit breaker and pilot light. Full range, 10-turn output voltage control potentiometer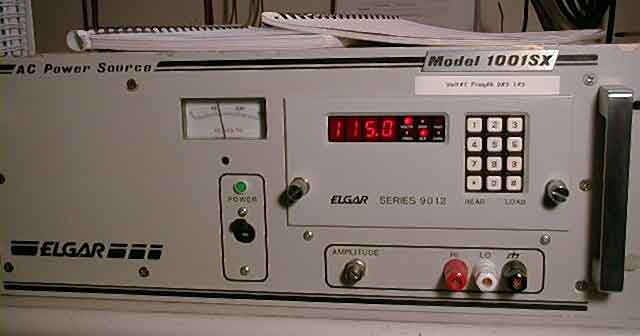 9012A/AE

FREQUENCY
Range



Programmable
45-99.99 Hz
45-999.9 Hz
45-5000 Hz

Resolution

0.01/0.1/1.0 Hz

Accuracy

0.001% of
Set Value

External Frequency/
Phase
Synchronization


No

VOLTAGE
Mode

Programmable
Simultaneously

Range

0-135 VAC


0-270 VAC

Resolution

0.1 VAC

Programming
Accuracy

±0.2% of Full Scale

Load Regulation

±0.015%; No
Load to Full Load

Line Regulation

±0.015%; for a
10% Line Change

CURRENT LIMIT
(Requires test option)


Programmable
Simultaneously
(All Phases)

Range

5%-100%

PHASE ANGLE
PROGRAMMING

Single ø, Two ø
Fixed 90°
3ø , Fixed 120°

Range

N/A

Resolution

N/A

Accuracy

±1°; 45-2 kHz
Add 1°
Per kHz
above 2 kHz

Fault Shutdown

Over/Under
Voltage
Overload
Over Current*

Programmable
Amplitude
Execution

Random/Zero
Crossing Peak

Line Cycle Drop-Out

Programmable
1-9 Cycles

Flat Top Distortion

N/A

MEASUREMENT
READBACK
FREQUENCY
Range




45 Hz-5 kHz

Resolution

2 Hz

Accuracy

0.12%
±0.8% Reading

TRUE RMS
VOLTAGE
Range


0-300 VAC

Resolution

0.1 VRMS

Accuracy

0.1% FS
±0.1% Reading

CURRENT
Range**


0-5A, 10A, 20A,
40 ARMS

Resolution

0.01 ARMS

Accuracy

1% FS
±1% Reading

POWER
Range**


0 - 1000 Watts

Resolution

1W

Accuracy

1% FS
±1% Reading

PHASE ANGLE
Range


N/A

Resolution

N/A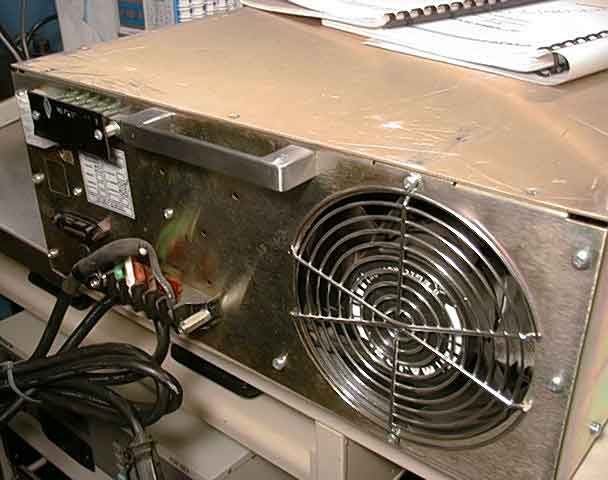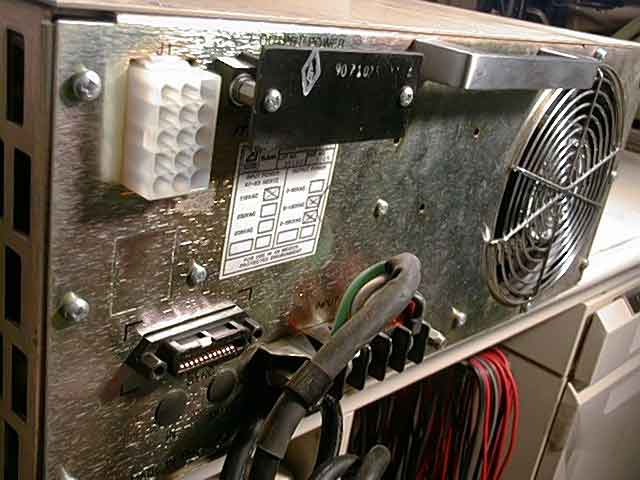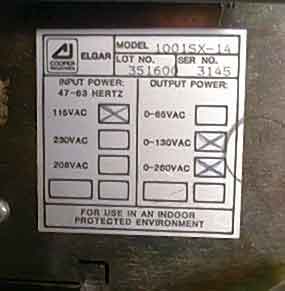 Shipping Policy
Buyer will pay $40.00 packing plus actual shipping in the continental United States. We will make every effort to ship within 24 hours of receipt of payment. We ship with FedEx only. We will be glad to ship with other carriers using the purchasers shipping account. Please contact us to make any special shipping arrangements. For shipping rate research, our shipping address is Boulder, CO USA ---- Zip Code is 80305.
Foreign buyers: Unless special provisions have been made, you are responsible for making your own shipping arrangements and all costs related to customs, duties & special packaging requirements. Please do not ask us to quote you international shipping rates. Use the address information above to research you own shipping rates. You can email waltwhite@ascentconcepts.com to get the packaging fee, package weight and size for your research. Items sold outside the USA are sold as is.