EFOS Lite
Ultraviolet/Visible Spot Cure System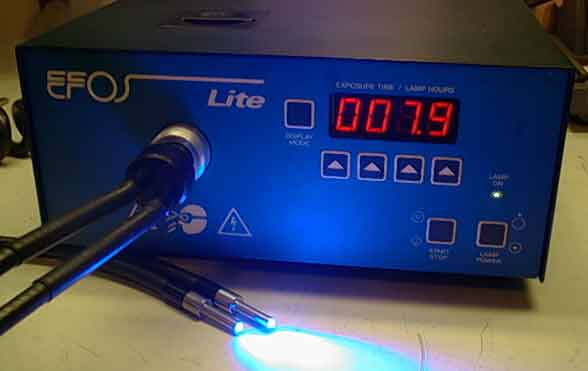 Providing Over 10,000 MW/CM2
The EFOS Lite is a versatile and economical light-curing solutions--perfect for a range of manual applications and an ideal entry-level system. Engineered with time and money saving features, including extra-long lamp life and filters which can be changed while the system is in operation, this compact unit delivers a lot: fast, easy and reliable operation and high-quality cures.
Unit is in excellent shape. It includes the a 320 to 480 nm Bandpass filer (shown below) but does not include optic fiber leads.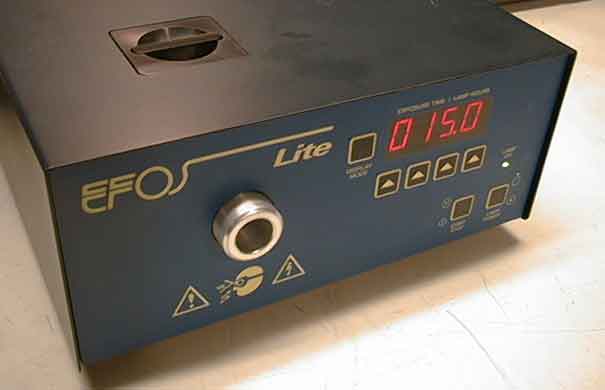 Bandpass Filters
Filters available for a range of applications; simple, external replacement without shutdown
Long Lamp Life Reliable, high-intensity curing power for up to 2000 hours
Controls/Display
User-friendly controls and comprehensive display for easy unit operation and
maintenance

Lamp Cooling System
Proprietary cooling system extends lamp life and delivers optimum performance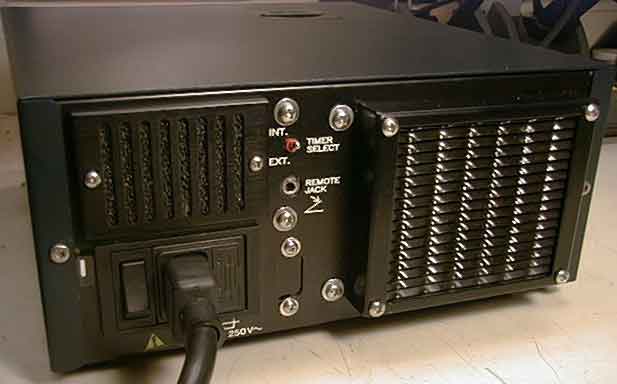 Features
Benefits

Typical power output with the standard filter at 320-480nm:
9,850 mW/ cm2

Long lamp life: 2000 hours (typical)


Hot lamp strike prevention


Proprietary system controls cooling and monitors lamp hours


Externally accessible bandpass filters


Finger-touch control panel with LED display


Password lock/unlock feature


Foot pedal (standard)


Ultra-small footprint


CE marked; certified to IEC,
Canadian and US standards

Delivers the intensity required for optimized UV and visible light curing for a broad range of industries and applications


Lower operating costs


Protects lamp life


Maintains optimum operating temperature; displays accumulated lamp hours


No need to open unit or turn lamp off to change filter


Easy to use


Protects settings for ensured repeatability


Convenient hands-free operation


Ideal for bench-top use and small workstations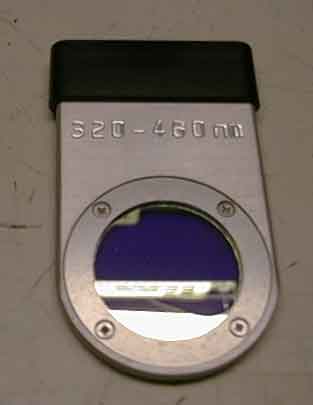 EFOS Lite Specifications
Lamp:
Proprietary 50 Watt Metal Halide
Lamp Life:
2000 hours (typical)
Removable Filters:
Standard: 320-480nm / Optional: 320-410nm, 365nm, 400-500nm, blank (250-600nm)*
Power Supply:
High efficiency, switch mode, line isolated, 90-264 VAC, 47-63 Hz, universal input
Warm-up Period:
90 seconds (typical)
Panel Controls:
Display Mode, Lamp On/Off, Exposure Time Set (0.2 - 999.9 seconds or manual), Shutter Activate Button
Panel Displays:
Accumulated Lamp Usage, Digital Countdown/Up Timer, Lamp On Indicator
Dimensions:
L x W x H
11.2" x 9.2" x 4.4"
28.45 x 23.37 x 11.17 cm
Weight:
9 lbs. / 4.08 kg
Includes:
Lamp module, standard bandpass filter, protective eyewear, grounded and shielded power cord, foot pedal, shutter lubrication and manual
Flexible Spectral Output
Meet unique spectral requirements with the right bandpass filter. EFOS carries a variety of filters that allow enhancements to cure characteristics and output refinements for specific conditions, such as protecting heat-sensitive substrates.
Filter
Intensity Output*
320-410nm
4,650 mW/cm2
320-480nm
9,850 mW/cm2
365nm
1,900 mW/cm2
250-600nm**
11,350 mW/cm2
400-500nm
2,250 mW/cm2
Shipping Policy
Buyer will pay $35.00 packing and shipping in the continental United States. We will make every effort to ship within 24 hours of receipt of payment. We ship with FedEx & UPS only. We will be glad to ship with other carriers using the purchasers shipping account. Please contact us to make any special shipping arrangements. For shipping rate research, our shipping address is Boulder, CO USA ---- Zip Code is 80305.
Foreign buyers: Unless special provisions have been made, you are responsible for making your own shipping arrangements and all costs related to customs, duties & special packaging requirements. Please do not ask us to quote you international shipping rates. Use the address information above to research you own shipping rates. You can email waltwhite@ascentconcepts.com to get the packaging fee, package weight and size for your research. Items sold outside the USA are sold as is.