Genrad 1689M Digibridge
Precision RLC Bridge
Component Tester / LCR Meter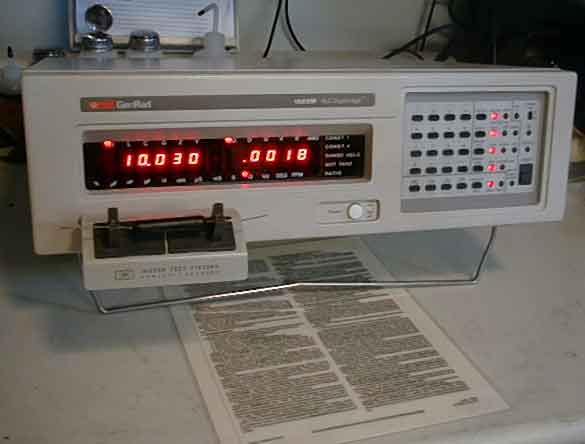 This instrument is the bench mark in LCR meters for precision (.02% basic accuracy) and speed (Up to 30 readings per second). The 1689M keyboard is simple to operate using the prompt sheet, and testing can also be performed via the IEEE-488 interface. Included are the Prompt Sheet, A HP Test fixture, and copy of the manual. This Unit has been tested and is in excellent physical and electrical condition.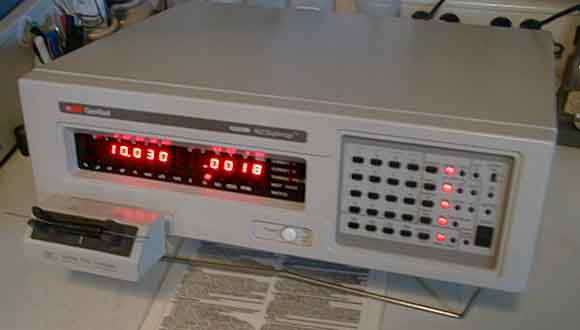 Programmable RCL Digibridge
The 1689 M automatically measures R L C D & Q it displays capacitance from .00001 pF to 99999 microF, resistance from .00001 ohm to 99999 Kohms, and inductance from .00001 mH to 99999 H with .02% accuracy, D & Q from .0001 to 9999. External Bias Voltages to 60 vdc maybe applied from a rear panel input. An Internal bias of 2 volts may be applied to capacitors by using the INT BIAS function. Test Voltages from 5 mV to 1.275 V in 5 mV steps are available. Over 500 test frequencies may be selected from the range of 12 Hz to 100 kHz. Programmability is through a rear panel IEE-488 interface. This instrument is fitted with the IEEE-488 (option 1658-9620), and packaged in a standard 19inch rack mountable cabinet. The front panel B&C input connectors can be relocated to the rear panel for additional systems convenience.