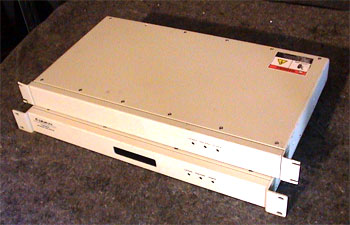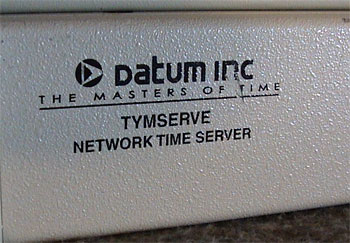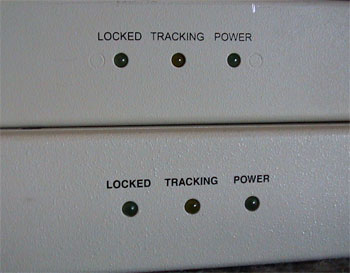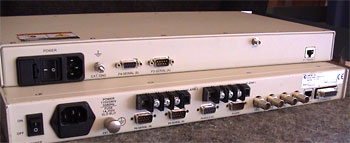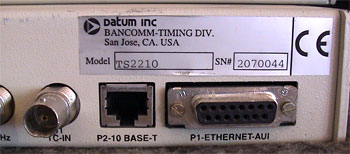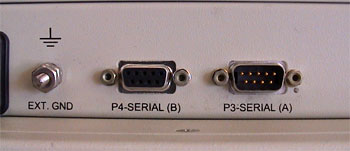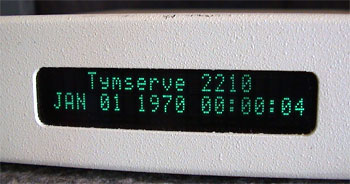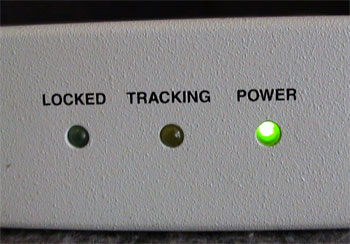 Datum Inc. Tymserve TS2210
Network Time Server
With Second LAN Unit
Characteristics:
Features

* Stand-alone NTP Time Server
* 1U Height, Rack-Mountable Unit
* Simple Network Management Protocol
* Convenient Front Panel Display
* Versatile Input/Output
* Ethernet 10BaseT Interface
* Telnet and RS-232 Remote Programming
* IRIG Time Code Input/Output
* Two-Year Warranty


* Independent Time Acquisition From: GPS, IRIG, or Dial-up Service
* 1 PPS TTL/CMOS Output 10 MHz Output
* Highly Accurate
* Security (more secure timing source)
* Low Maintenance
* RSA KeonŽ Ready
* RSA SecurIDŽ Ready

TymServe 2100 simplifies the task of implementing and maintaining an enterprise network synchronization system, offers better timing accuracy, decreases security risk and provides a lower cost of ownership.

Self-contained
Network managers and system integrators appreciate the fact that the TymServe 2100 is a complete time server in a convenient, self-contained rack-mountable unit. Configuration can be done via the front panel keypad, the RS-232 console port or the 10BaseT network connections.

Accurate
Uses UTC (Universal Coordinated Time), the international standard, to keep computer clocks accurate within 1/10th of a second per year.

Flexible
Acquires UTC from a variety of sources, including GPS satellites, autodial to NIST (National Institute of Standards and Technology), and other methods. GPS: The GPS configuration offers a revolutionary concept in network synchronization. GPS satellites continually pass overhead providing an easily accessible source of UTC time for each remote campus equipped with a TymServe.

Secure
Distributes time within network via NTP (Network Time Protocol) with no need to breach the firewall.

Authenticated
Provides extra assurance, via MD5 authentication, that only authorized devices are accessing your systems via NTP.

Integrated
Can be managed from an integrated management console. Outputs include NTP, IRIG, IPPS and Sysplex.

Easy to use
Allows user to setup and manage equipment with front panel switches, Telnet, SNMP-enabled console or the web. In addition, the unit has IRIG time code, 1 PPS and 10 MHz reference inputs and outputs. Network management tools include Simple Network Management Protocol (SNMP) with a custom MIB II extension, remote Telnet access, Dynamic Host Configuration Protocol (DHCP), and MD5 access authentication.

Cost Effective
Initial TymServe cost savings come from its simple configuration and installation relative to configuring a conventional workstation as a time server. Savings continue with the elimination of network synchronization management and software upgrade costs.
Equipment Notes:
The Main Unit powers up but is untested beyond that. The Secondary LAN unit does not power up so please bid accordingly.
Warranty:
These items are sold as is.
Payment, Shipping & Bidding:
Buyer will pay $25.00 packing and shipping in the continental United States. Payments accepted are Paypal
, cashiers checks and money orders only. No international buyers unless Paypal verified. Please feel free to contact us if you need other arrangements.
We will make every effort to ship within 24 hours of receipt of payment. We ship with FedEx & UPS only. We will be glad to ship with other carriers using the purchasers shipping account. Please contact us to make any special shipping arrangements. For shipping rate research, our shipping address is Boulder, CO USA ---- Zip Code is 80305.
Many of our auctions have a set packaging and shipping fee. This set fee makes the transaction easier and allows the purchaser to send payment at once without having to wait for a shipping total. This is our best guess on an unpackaged item. Please consider the total with shipping when you are bidding.

Foreign buyers: Unless special provisions have been made, you are responsible for making your own shipping arrangements and all costs related to customs, duties & special packaging requirements. Please do not ask us to quote you international shipping rates. Use the address information above to research you own shipping rates. You can email sales@ascentconcepts (no spam) .com to get the packaging fee, package weight and size for your research. Items sold outside the USA are sold as is.
Bidders - with no feedback or less then 80% positive feedback must contact us through the eBay email system before placing a bid. We will reply through the same system, documenting that you have been approved to bid. If you do not follow these procedures, your bid will be cancelled. All other bidders, bid with confidence.
About Us:
Ascent Concepts and Technologies is a Research & Development Lab. As a service to the companies and institutions we work with, we broker their excess equipment & act as application specialists on their new equipment needs. We are now offering quality used equipment to the public with the same level of professionalism and service.
Please feel free to email at thomasknox@ascentconcepts (no spam) .com or call Thomas @ 1-303-554-0307 with any Technical questions. Please feel free to email at waltwhite@ascentconcepts (no spam) .com or call Walt @ 1-720-276-8288 with any Shipping or Logistical questions. We make every effort to evaluate and guarantee our equipment. Although we do not provide NIST traceable calibration, we do have extensive in house calibration equipment and make every effort to test and verify performance on equipment we sell. However we do not warranty any items shipped outside the USA.