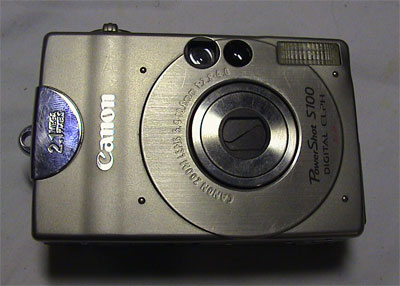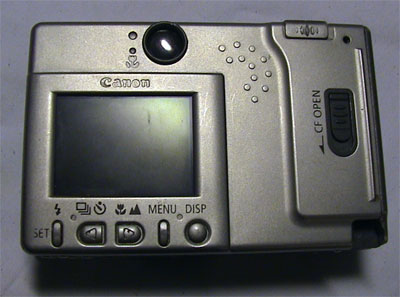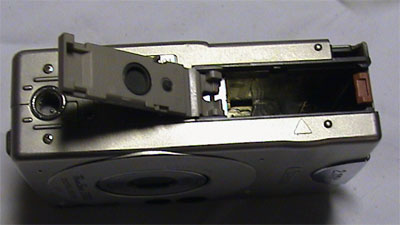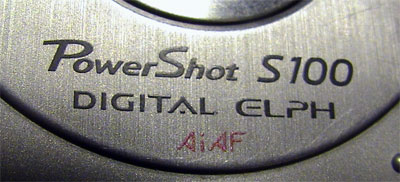 Canon PowerShot S100
Digital Elph
Characteristics:
Connects with Macs and PCs via USB port
Rechargeable Lithium-Ion battery included
2.1 megapixel sensor captures enough detail to create photo-quality 8 x 10 prints
2x optical plus 4x digital zoom lens with autofocus
Canon's latest crowning achievement, the PowerShot S100, packs a high-quality digital camera into the tiny, elegant body of Canon's Digital Elph series. With this item, Canon becomes the first to produce such a small digital camera with high resolution. The super-popular Elph APS cameras were favored because users could slip them into shirt pockets and take them anywhere. Now the digital camera has truly come of age with this ultraportable model.

The PowerShot S100 uses the same durable stainless-steel case as the traditional Elph series cameras. It offers 2-megapixel resolution for high-quality photos and prints up to 8 by 10 inches. Canon provides the PowerShot S100 with a high-resolution, low-distortion, all-glass aspherical 2x zoom lens (and a 4x digital zoom as well). The 1.5-inch LCD monitor displays most camera settings with easy-to-understand icons and minimal text. The PowerShot S100 features a 0.37-inch CCD that creates full color or black-and-white images up to 1,600 x 1,200 pixels (it also offers a 640 x 480 pixel image size). The built-in flash uses a light guide and does not need a fresnel lens or a large reflector, making the camera even more compact.

The PowerShot S100 stores images on an 8 MB CompactFlash card. Adobe PhotoDeluxe and PhotoStitch control image management, editing, compositing, and printing, while ZoomBrowser EX or ImageBrowser produce self-running screen slide shows, automatic e-mail preparation, and auto layout. The camera uses a high-speed plug-and-play USB interface, plus it has NTSC-out so you can view your photos on your TV. It's fully compatible with both Mac and PC platforms.

Equipment Notes:
Unit does not power up.
Warranty:
This item is sold as is.
Payment, Shipping & Bidding:
Buyer will pay $7.00 packing and shipping in the continental United States. Payments accepted are Paypal
, cashiers checks and money orders only. No international buyers unless Paypal verified. Please feel free to contact us if you need other arrangements.
We will make every effort to ship within 24 hours of receipt of payment. We ship with FedEx & UPS only. We will be glad to ship with other carriers using the purchasers shipping account. Please contact us to make any special shipping arrangements. For shipping rate research, our shipping address is Boulder, CO USA ---- Zip Code is 80305.
Many of our auctions have a set packaging and shipping fee. This set fee makes the transaction easier and allows the purchaser to send payment at once without having to wait for a shipping total. This is our best guess on an unpackaged item. Please consider the total with shipping when you are bidding.

Foreign buyers: Unless special provisions have been made, you are responsible for making your own shipping arrangements and all costs related to customs, duties & special packaging requirements. Please do not ask us to quote you international shipping rates. Use the address information above to research you own shipping rates. You can email sales@ascentconcepts (no spam) .com to get the packaging fee, package weight and size for your research. Items sold outside the USA are sold as is.
Bidders - with no feedback or less then 80% positive feedback must contact us through the eBay email system before placing a bid. We will reply through the same system, documenting that you have been approved to bid. If you do not follow these procedures, your bid will be cancelled. All other bidders, bid with confidence.
About Us:
Ascent Concepts and Technologies is a Research & Development Lab. As a service to the companies and institutions we work with, we broker their excess equipment & act as application specialists on their new equipment needs. We are now offering quality used equipment to the public with the same level of professionalism and service.
Please feel free to email at thomasknox@ascentconcepts (no spam) .com or call Thomas @ 1-303-554-0307 with any Technical questions. Please feel free to email at waltwhite@ascentconcepts (no spam) .com or call Walt @ 1-720-276-8288 with any Shipping or Logistical questions. We make every effort to evaluate and guarantee our equipment. Although we do not provide NIST traceable calibration, we do have extensive in house calibration equipment and make every effort to test and verify performance on equipment we sell. However we do not warranty any items shipped outside the USA.