Bruel & Kjaer 2511
Vibration Meter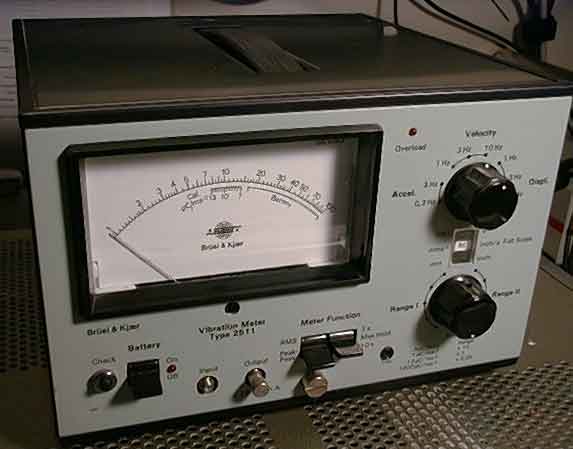 This Bruel and Kjaer 2511 Vibration Meter is in excellent physical and electrical condition. It has a few very small scratches and dings on the edges. I just put brand new Nicad batteries in it.
Specifications
Recommended Transducer : - Bruel & Kjaer 4370 piezoelectric accelerometer with a nominal sensitivity of 10 pC/ms-2 ~ 100 pC/g

Measurement Ranges : - with 4370 accelerometer.
Acceleration 0.3 Hz 0.002 - 100 ms-2 0.0002 - 10 g
Velocity 3 Hz 0.02 - 1000 mm/s 0.001 - 100 in/s
Displacement 10 Hz 0.0003 - 10 mm 0.00002 - 1 inch
The above figures are for wide band measurements. The minimum levels are RMS and are 6 dB (2 x) above the wide band instrument RMS noise level. If the next lower low frequency setting is selected, then the minimum limit for velocity measurements is a factor of 3 to 4 higher. The next lower low frequency for displacement settings will increase the minimum limit by 10 times.

Accuracy : including accelerometer is ± 5 % absolute overall within linear ranges.

Filters :
High Pass Filter : 3-pole Butterworth, fall off 18 dB/octave
Low Pass Filter : 2-pole Butterworth, fall off 12 dB/octave

Detector: Quasi RMS: True reading indicated for sinusoidal signals with crest factor < 3
Time Constants : 1 s and 10 s switchable
Time Constants in Max Hold : 1 s
Max Hold drift : < 10 % per 5 minutes with FSD

Detector : True Peak-to-Peak :
Time Constants : 1 s and 10 s switchable
Max Hold drift : < 10 % per 30 minutes with FSD
Rise Time : > 25 µs : 15 kHz LP filter

Dynamic Range : for both detectors is 40 dB

External Filter Sockets : 2 x BNC
Signal level : 1 V PEAK or RMS
Input Socket Impedance : 16 kΩ

Recorder Outputs :
Output Impedance : 1 kΩ
AC : 2.7 V RMS for FSD. Overload 6.8 V peak
DC Log : 2 V for FSD, 0.05 V/dB. Overload 2.25 V
DC Lin : 3 V for FSD. Overload 4.5 V

Meter Calibration :
Internal Oscillator : 80 Hz

Internal Power Supply :
Battery : 4 x 1.5 V - D cells, IEC type R20
Battery Life : 15 hours with Alkaline batteries

Environmental :
Temperature Range : -10 °C to +50 °C
Humidity Range : 0 to 95 %RH, non condensing
Electromagnetic : fields up to 100 A/m increases noise floor < 14dB

Size and Weight : excluding feet, knobs etc.,
Height : 133 mm
Width : 210 mm
Depth : 200 mm
Weight : 2.4 kg

Warranty
As our many customers will attest, we will do our very best to resolve any customer problems. But our official policy is: All items sold are guaranteed against D.O.A. only. All claims must be made within 3 days of receipt. All warranties are void if the calibration / warranty seals are broken.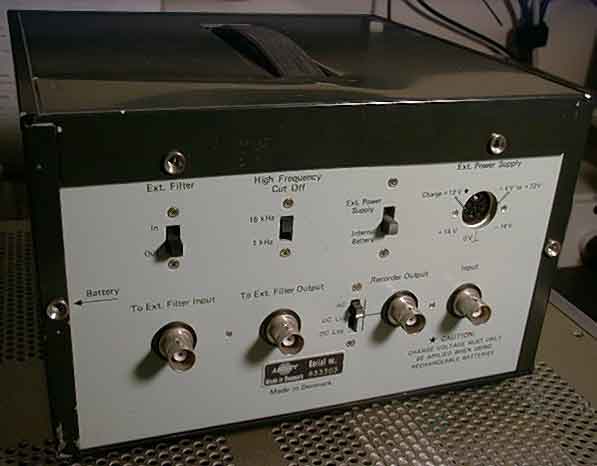 Ascent Concepts and Technologies is a Research & Development Lab. As a service to the companies and institutions we work with, we broker their excess equipment & acting as application specialists on their new equipment needs. We are now offering quality used equipment to the public with the same level of professionalism and service. Please feel free to email at thomasknox@ascentconcepts.com or call Thomas @ 1-303-554-0307 with any Technical questions. Please feel free to email at waltwhite@ascentconcepts.com or call Walt @ 1-720-276-8288 with any Shipping or Logistical questions. We make every effort to evaluate and guarantee our equipment. Although we do not provide NIST traceable calibration, we do have in house calibration equipment and will make every effort to test and verify performance on equipment we sell. However we do not warranty any items shipped outside the United States. All equipment we sell comes with a three day right of return unless stated otherwise.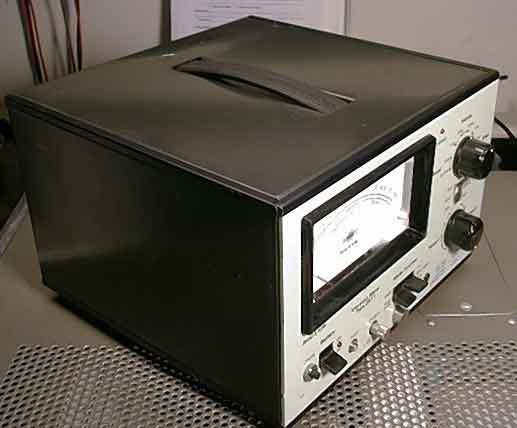 Shipping Policy
Buyer will pay $35.00 packing & shipping costs in Continental USA. We will make every effort to ship within 24 hours of receipt of payment. We ship with FedEx & UPS only. We will be glad to ship with other carriers using the purchasers shipping account. Please contact us to make any special shipping arrangements. For shipping rate research, our shipping address is Boulder, CO USA ---- Zip Code is 80305.
Foreign buyers: Unless special provisions have been made, you are responsible for making your own shipping arrangements and all costs related to customs, duties & special packaging requirements. Please do not ask us to quote you international shipping rates. Use the address information above to research you own shipping rates. You can email waltwhite@ascentconcepts.com to get the packaging fee, package weight and size for your research. Items sold outside the USA are sold as is.
Payment Policy
We accept Credit Card payment through Paypal. We accept Cashiers Check or Money Orders.