Agilent 8762A Coaxial Switch
DC to 4 GHz, SPDT
OPTION 011
Brand New: Unopened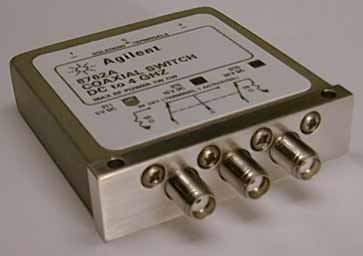 Photos Are Taken of Actual Item
Included:
* Agilent 8762A Coaxial Switch
* Certificate of Calibration
* 8762A Product Overview Pamphlet
* 8762A Technical Data Sheet
Description:
The Agilent 8762A is a single pole double-throw switch with high isolation, >100dB to 4 GHz. It terminates the unused port into 50 ohm, a key feature for your applications where low SWR is required on all ports. Offering you excellent electrical and mechanical performance with broadband operation, high isolation , low SWR , long life, and exceptional repeatability, this switch is designed with your applications in mind.
Features:
Terminated
Break-before-make
Current interrupts
Position indication capability
Insertion loss: < 0.2 dB to 2 GHz, < 0.25 dB to 4 GHz
Isolation: > 100 dB to 4 GHz