Test & Meaurement Systems (TAMS)
60488 HP-IB Interface Card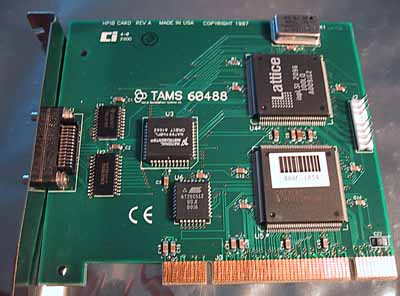 Features
High performance HP-IB Interface
3.3v or 5v PCI
Use with Windows XP, 2000 & NT
SICL Compatible
IEEE488.2 compliant
24% faster than the E2071D
I/O performance is imperative in instrument control. The computer should always be waiting for the instrument and not the other way around. The TAMS 60488 can deliver all the speed that your instruments need.
The TAMS 60488 card operates in both 3.3V and 5V PCI.
The ability of a single card to work at either voltage level allows the standardization of IEEE 488 interfaces in a single TAMS card. This offers unprecedented simplicity and reconfiguration possibilities.
TAMS 60488 PERFORMANCE
The TAMS 60488 is an average of 24% faster than the E2071D HP-IB card.
Using a single number to characterize performance of HP-IB, or any type of I/O operation can be misleading, because many factors affect actual performance: amount of data being transferred, size of data blocks, difference between read and write speeds, programming language, computer being used, etc. As a result, we do not recommend basing any decisions on maximum transfer rate. However, to conform to the industry standard of specifying maximum I/O speed, the TAMS 60488 card is specified at 1MB/s.
In actual tests on transfers that ranged in size from 100K to 10MB with data blocks that varied from 1K to 128K using the E2071D HP-IB card the TAMS 60488 was an average of 20% faster in read and write operations.
The E2071D was selected for comparison because it is probably the most widely used HP-IB card, and HP specifications have traditionally been very conservative.
Based on the industry standard TI 9914 chip the TAMS 60488 card meets all specifications of the industry standard IEEE488.2.
Regardless of the application, your code will now run at full performance without modification. Thanks to Agilent's (HP) SICL software architecture, once the TAMS driver is loaded, the 60488 card can be used in any application without requiring more computer overhead or changes to the code.