National Instruments
GPIB Interface for ISA
(w/ NI 488.2 for Windows Software)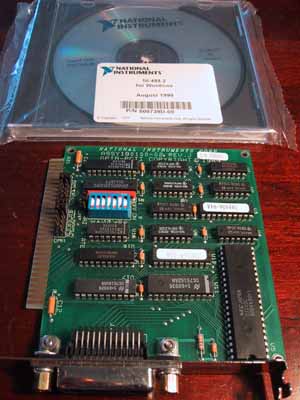 Overview:
The National Instruments GPIB-PCII is a full-function, low-cost IEEE 488 interface for PCs with ISA slots. The GPIB-PCII is compatible with all NEC 5PD7210-based GPIB-PCII boards, as well as interface boards that use the TI TMS 9914A controller chip. The board can also share interrupts when used in the GPIB-PCIIA mode. The NAT4882 chip performs the basic IEEE 488 Talker, Listener, and Controller functions, as well as all the remaining Controller functions required by IEEE 488.2. By integrating the complete PC bus interface into the NAT4882, the GPIB-PCII/IIA has unsurpassed flexibility and reliability. The NAT4882 also significantly increases the throughput of the associated NI-488.2 by performing operations in hardware that were previously possible only in software.


Shipping Policy
Shipping to be determined depending on geographical location. We will make every effort to ship within 24 hours of receipt of payment. We ship with FedEx only. We will be glad to ship with other carriers using the purchasers shipping account. Please contact us to make any special shipping arrangements. For shipping rate research, our shipping address is Boulder, CO USA ---- Zip Code is 80305.
Foreign Buyers: Unless special provisions have been made, you are responsible for making your own shipping arrangements and all costs related to customs, duties & special packaging requirements. Please do not ask us to quote you international shipping rates. Use the address information above to research you own shipping rates. You can email mstojak@ascentconcepts.com to get the packaging fee, package weight and size for your research. Items sold outside the USA are sold as is.