HP/Agilent 5342A
CW Microwave Frequency Counter
(w/ OPT 006: Limiter Input Protection)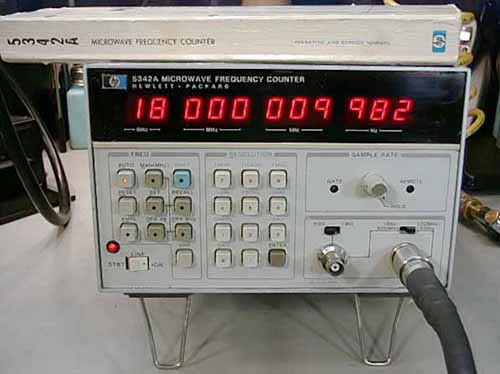 Included:
* HP 5342A Counter
* HP 5342A Operation and Service Manual
Characteristics:
The HP 5342A Microwave Counter provide Automatic Frequency Measurements up to 18 to 26.5 GHz in highly portable packages. The powerful and versatile microprocessor controlled keyboards can accomplish offset tasks as a standard feature as well as providing user interactive diagnostic information. The eleven-digit display is sectionalized for easy readout to one hertz resolution. This unit utilizes the Harmonic Heterodyne down conversion technique which combines the best performance features of the Heterodyne Converter and Transfer Oscillator Techniques. Now Wide FM Tolerance is achievable along with high input sensitivity and automatic amplitude discrimination. This allows the counter to automatically measure the largest signal present within the counters' spectrum while ignoring all others.
Specifications:
Input 1:
Frequency Range: 500 MHz to 18 GHz
Sensitivity:

500 MHz to 12.4 GHz: -25 dBm
12.4 GHz to 18 GHz: -20 dBm

Maximum Input: +5 dBm
Connector: Precision Type N female
Input 2:
Frequency Range: 10 Hz to 520 MHz Direct Count
Sensitivity:

50 ohms: 10 Hz to 520 MHz, 25 mV rms
1 Mohm: 10 Hz to 25 MHz, 25 mV rms

Maximum Input: 50 ohms 3.5V rms (+24 dBm) or 5V dc fused protected; 1 Mohm 200V dc +5.0V rms
Coupling: AC
Connector: Type BNC (female)
Impedance: Selectable, 1 Mohm, <50 pF or 50 ohm nominal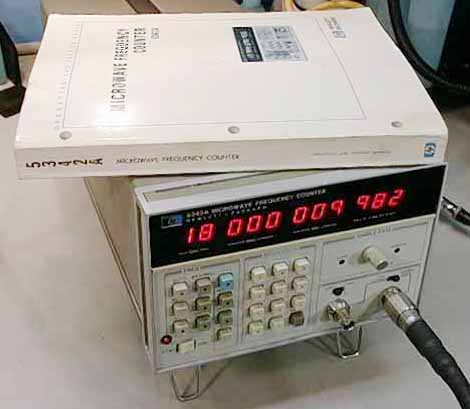 This unit is tested and is fully operational.
It was built back in the golden era of HP and is "Beautifully Constructed!"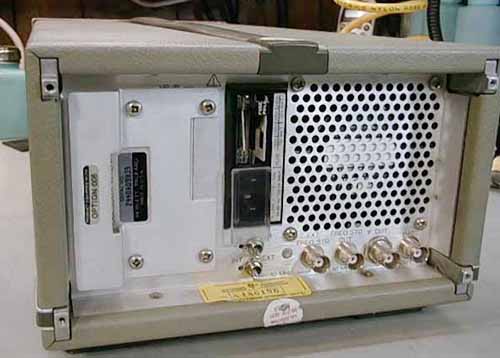 The main cause of microwave counter failure is front-end overload.
This unit includes the very desirable option 006,
which is a front-end limiter that will protect the input from damage from CW signals up to +39dBm. (8 watts)