Fluke PM6303A
Automatic RCL Meter
(w/ Front Panel Radial Component Test Fixture & Surface Mount Tweezers)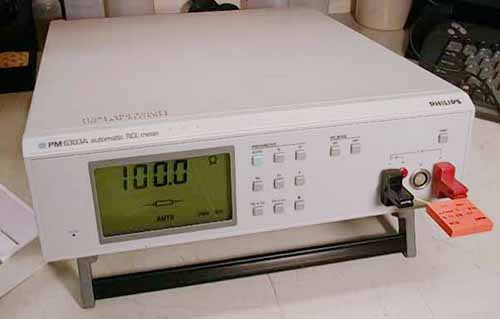 Includes:
* Front Panel Radial Component Test Fixture
* PM9450TWE Surface Mount Test Tweezer (sealed in wrapper)
* Extra Fuses
* AC Power Cords
Characteristics:
The PM 6303A is the fast and simple way to get information about the value and electrical characteristics of any component. Just connect the component and read-out the value, the units and the equivalent circuit diagram from the large, backlit LCD display. This versatile meter gives you 9 specific parameter tests, with switchable dc bias for components that need it. At the push of a button you can select series or parallel resistance, capacitance, inductance, impedance, Q (quality) and D (dissipation) factors, and phase angle. Included with this PM6303A are both the radial component test fixture for front panel measurement and the surface mount component test tweezers. These two fixtures will allow you to test a wide range of components in and out of circuit. You can see from the photo that this unit is in excellent condition. The tweezers are still sealed in their original wrapper. The unit is shown displaying a E.S.I. 100 ohms resistor. You and can see that it performs flawlessly.
Features:
0.25% basic accuracy
2V dc internal bias
Automatic zero trimming
Front-panel test posts for immediate 4-wire measurements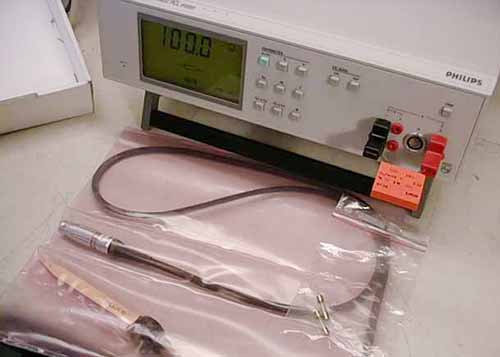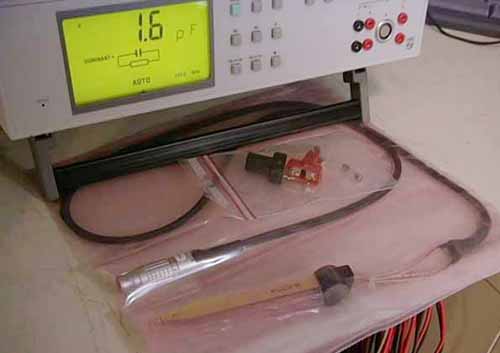 Specifications:
AC test mode
Test frequency: 1 kHz
Test frequency accuracy: 0.025%
Test signal level: 2V via 400W source
Basic measurement accuracy: 0.25% ± 1 digit

DC bias
Internal: 2V
Maximum measurement ranges
Impedance/Resistance Z or RAC: 0.000W to 200 MW
Capacitance C: 0.0 pF to 100 mF
Inductance L: 0.0 mH to 32 kH
Quality factor Q: 0.0002 to 500
Dissipation factor D: 0.002 to 500
Phase angle F: -90.0 to +90.0 deg
Maximum resolution
Impedance/Resistance Z or RAC: 01 mW
Capacitance C: 0.1 pF
Inductance L: 0.1 mH
Quality factor Q: 0.001
Dissipation factor D: 0.001
Phase angle F: 0.1 deg
Circuit diagram
7 different equivalent circuit diagrams
Auto mode
Read-out: Dominant parameter
Equivalent circuit diagram:
Parallel for R+C
Serial for R+L
Manual Mode
Read-out: Dominant or secondary parameter
Equivalent circuit diagram: Parallel or serial selectable
Measurement update rate
2 measurements/s
Trim function
Open circuit:
Open circuit compensation
Z > 100 kW
Short circuit:
Short circuit compensation
Z < 10W
Stored settings (non-volatile memory)
Front panel settings: 1 (trim figures included)
Calibration Interval
1 year
Environmental Conditions
Operating temperature: 0°C to 50°C
Storage temperature: -40°C to 70°C
Power requirements: 100/120/220/240V ± 10%
Line frequency: 50 to 100 Hz
Power consumption: 16 VA
Safety: According to CE-regulation 73/23 EN61010-1 CAT II, Pollution Degree 2
EMC: According to CE regulation 89/336:
Emission according to EN 55011, Group 1 Class B, respectively CISPR 11.
Immunity according to EN 50082-1, inclusive IEC 801-2, -3, -4
Warm-up time: 5 minutes
Dimensions and weight
W x H x D: 315 x 105 x 401 mm (12.4 in x 4.13 in x 15.9 in)
Weight: 3.8 kg (8.4 lb)

Shipping Policy
Shipping to be determined depending on geographical location. We will make every effort to ship within 24 hours of receipt of payment. We ship with FedEx only. We will be glad to ship with other carriers using the purchasers shipping account. Please contact us to make any special shipping arrangements. For shipping rate research, our shipping address is Boulder, CO USA ---- Zip Code is 80305.
Foreign Buyers: Unless special provisions have been made, you are responsible for making your own shipping arrangements and all costs related to customs, duties & special packaging requirements. Please do not ask us to quote you international shipping rates. Use the address information above to research you own shipping rates. You can email mstojak@ascentconcepts.com to get the packaging fee, package weight and size for your research. Items sold outside the USA are sold as is.