Dranetz 8000-2
Energy Analyzer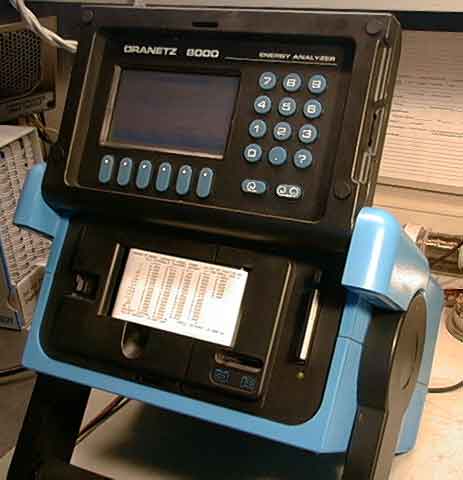 Dranetz 8000-2
This auction includes :
Dranetz 8000-2 energy analyzer

3 CT150 Probes

2 CT300 Probes (New)

A full set of assorted test leads

2 MB Memory Card

Heavy Duty Carrying Case

Parallel to Serial & Parallel to Parallel Interface Cables

Operations Manual

8 Boxes of Printer Paper (Not sure how many rolls in each box)
All these Items can be seen in the photos below.
This Dranetz 8000-2 is in excellent physical & electrical condition. It is full of options and accessories. There are so many features and options with this item that it is too much to list. If you have any questions, feel free to call or email us.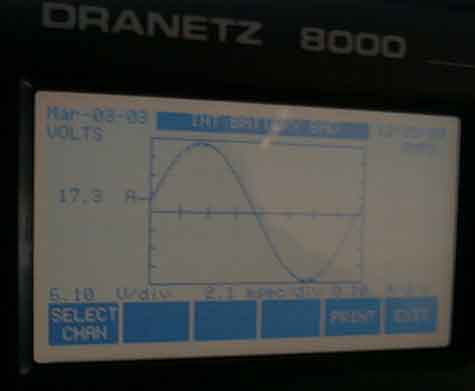 Form Factor
Benchtop
Type
Demand
Phase Angle
Triple
No. of Voltage Channels
4 ch
No. of Current Channels
4 ch
Minimum Voltage
60 Vrms
Maximum Voltage
600 Vrms
Minimum Frequency
20 Hz
Maximum Frequency
450 Hz
Harmonics Measurement
Yes
Transients Analysis
No
Inrush current and timing analysis
Yes
Sags & Swells Analysis
No
PC-8000 Comm. & Anal. Software
RMS Voltmeter
RMS Clamp-on Ammeter & Oscillosc
Removable Memory Card Capabili
Event Monitor & Phase Angle Mete
Harmonic Analysis(IEEE-519,IEC
Harmonic Distortion Analyzer
Demand Analyzer & Energy Use Ana
FAX Capability
Neutral to Ground Monitor

User Interface
Windows/95
Ports to Peripheral Devices
RS232C
Test Pattern Storage
24 Patterns
Novram data storage
Yes
Data Storage Type
FDD,HDD
Input Power
Universal (Auto Sense and Switch)
Width
330 mm(12.99 in)
Height
178 mm(7 in)
Length
254 mm(9.99 in)
Weight
9.46 kg(20.85 lb)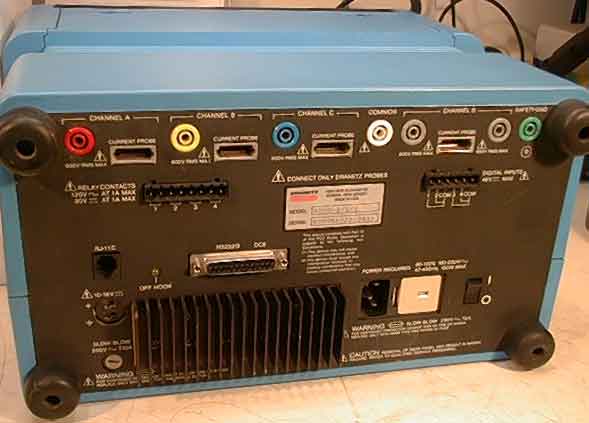 Energy Analyzer
Motor Inrush Analysis
Harmonic Analysis
Removable Memory Cards
Rated Schedule Analysis
PC Analysis Software
Specifications
Measured Parameters Voltage
* Channels: Three voltage channels with common return and one full-differential channel.
* Range: AC 60 to 600 Volts RMS for channels A, B, C. 0 to 600 volts for channel D
Current
* Channels: Four current digital channels
* Range: 10% to 200% full scale of CT; 2% to 100% full scale for channel D
Digital
* Channels: Four digital channels
* Range: 12 to 48 volts DC
Frequency
* Range: 20 to 450 Hz fundamental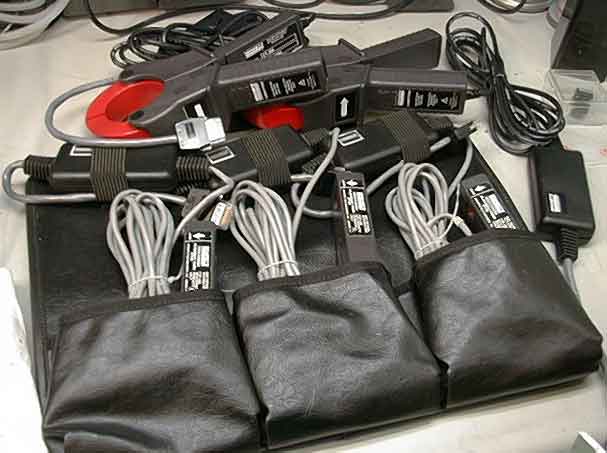 Computed Parameters
Demand: Average demand during interval in kW, kVA, kVAR.
Energy: Cumulative energy used in kWH, kVAH, kVARH
Power Factor
True PF and displacement PF
Time Clock
Memory: Non-Volatile Memory 512 kbytes standard
Printer: High resolution graphics, thermal printer
Display: 4.25" X 2.27" Liquid crystal display
Serial Ports: One 25-pin RS232D communication port, 300-9600 baud
Relays: 4 output relays for external access, rated 120 VAC at 1A, 30VDC at 1 A
Memory Card: PCMCIA/JEIDA compatible (Available separately)
Trigger Conditions
A report can be initialized by:
* Limited crossing of any parameter
* Specified time (max. of 4 per day)
* End of demand interval
* Time interval (other than demand interval)
* End of billing period
* Upon request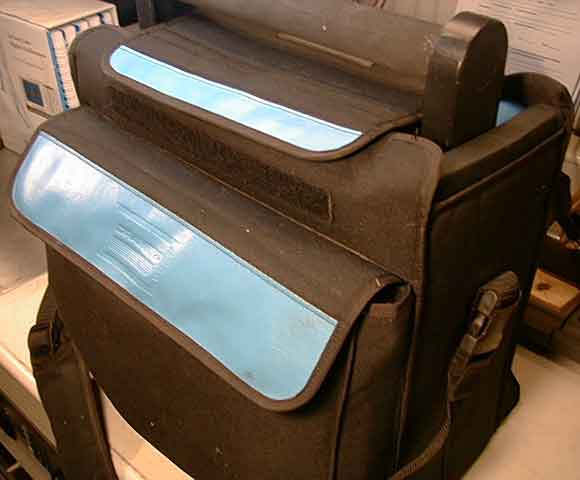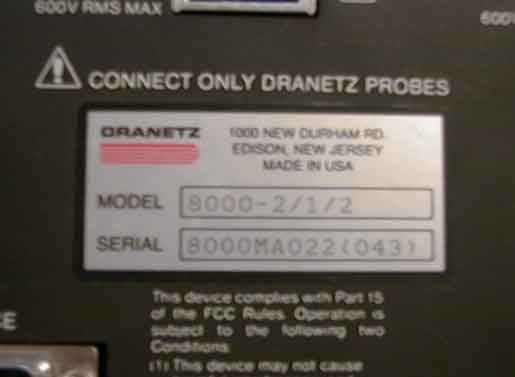 Modes of Operation
Scope Mode
Real-time viewing of

voltage and current waveforms
voltage and current phasor diagrams

Meter Mode
A true handheld three-phase volt-amp-power-harmonic meter lets you view values updated every second: volts, amps, watts, VA, var, power factor, frequency, voltage unbalance, V&I Total harmonic distortion, current crest factor, K factor, demand, energy and nth harmonics. The available parameters depend on the TASKCard you have selected.
View Data
Recorded data can be viewed to quickly show problems

Event data can be displayed utilizing the built-in event, worst case, or activity reports
Waveform data displays the actual captured voltage or current waveform
Power Quality events (sags and swells) are clasified to the IEEE 1159 standard for voltage disturbances Requires TASKCard PQPlus

Time Plots
Displays a graph of the selected parameter since recording began

Record up to 10 days
Select from up to 16 different parameters
Select individual channels
Zoom in for greater detail down to 0.1 sec/div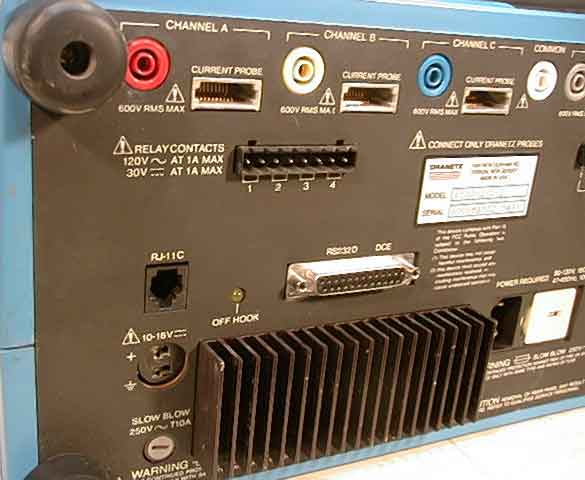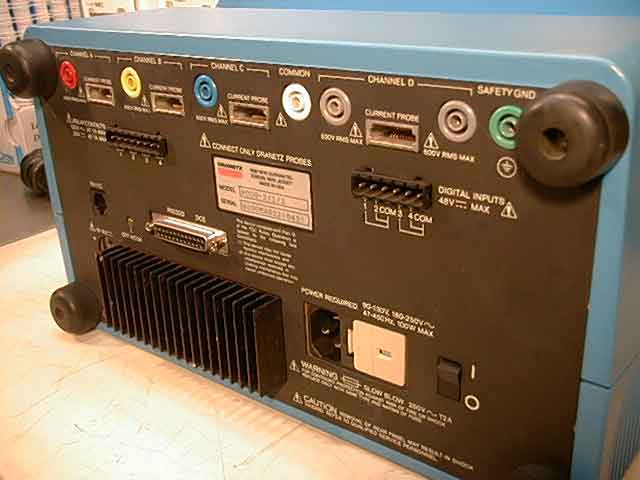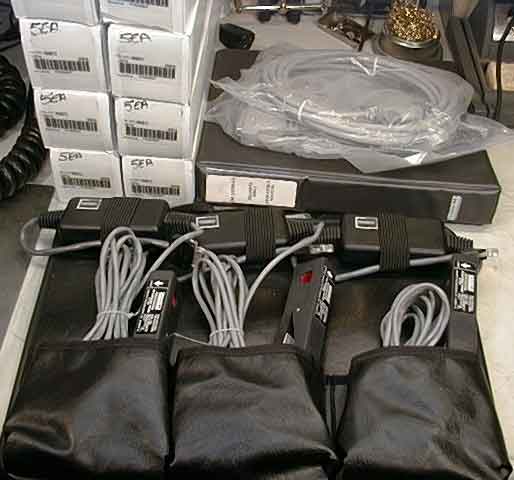 Warranty
As our many customers will attest, we will do our very best to resolve any customer problems. But our official policy is:
All items sold are guaranteed against D.O.A. only.
All claims must be made within 3 days of receipt.
All warranties are void if the calibration / warranty seals are broken.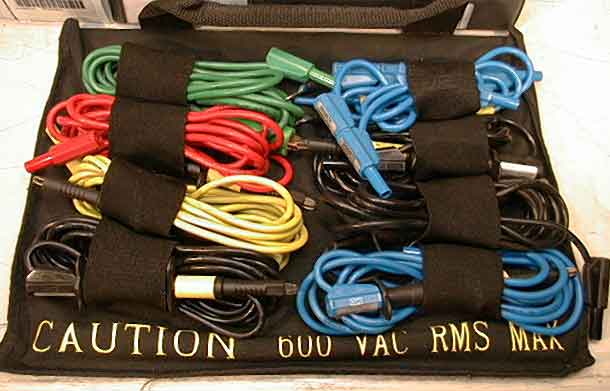 Shipping Policy
Buyer will pay $40.00 packing and shipping in the continental United States. We will make every effort to ship within 24 hours of receipt of payment. We ship with FedEx only. We will be glad to ship with other carriers using the purchasers shipping account. Please contact us to make any special shipping arrangements. For shipping rate research, our shipping address is Boulder, CO USA ---- Zip Code is 80305.
Foreign buyers: Unless special provisions have been made, you are responsible for making your own shipping arrangements and all costs related to customs, duties & special packaging requirements. Please do not ask us to quote you international shipping rates. Use the address information above to research you own shipping rates. You can email waltwhite@ascentconcepts.com to get the packaging fee, package weight and size for your research. Items sold outside the USA are sold as is.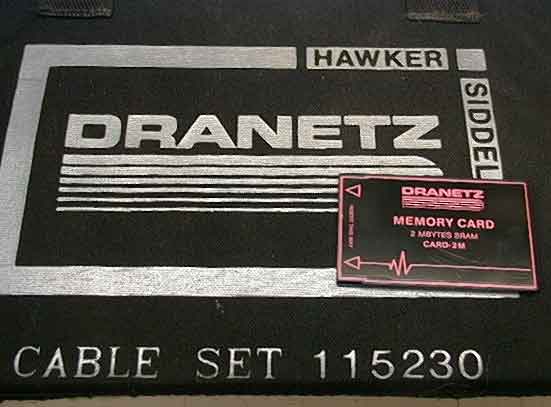 Payment Policy
We accept Credit Card payment through Paypal. We accept Cashiers Check or Money Orders.